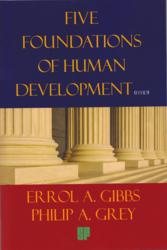 The authors posit five foundations upon which human beings can build fulfilling lives: spiritual, moral, social, intellectual, and physical.
Toronto, ON, Canada (PRWEB) September 15, 2011
What do you get when a "technological" and a "theological" mind come together to address the most pressing problems facing humanity? In the case of Errol Gibbs and Philip Grey, you get Five Foundations of Human Development, a study almost ethereal in its brilliance, hailed as an "answer to the call of modern man to turn from our failed endeavors and seek divine intervention and guidance by a higher moral authority."
A bold call indeed, by Gibbs, a former technologist, engineer/officer and analyst, and Grey, a noted Christian theologian, and widely traveled missionary and motivational speaker. The authors hope to do nothing less than "engender new hope for human survival, informed by God's immutable plan for His creation."
Mediated through solid Christian theology, empirical observation, science, and religion, Gibbs and Grey's book, offers a prodigiously researched cross-disciplinary analysis of the philosophical, religious, and practical challenges that humans must overcome if we are to have a future as a viable species. "Global poverty, a deteriorating environment, and war call for a Christian response that is informed by a solid biblical theology of humanity," says Dr. Franklin Pyles, president of Christian & Missionary Alliance in Canada. "Gibbs and Grey provide a broad but incisive overview of such a theology, and by so doing give the church perspective and direction for redemptive and healing action in contemporary society."
Five Foundations of Human Development, the result of eleven years of research and writing, and combined travel experience to thirty-two countries, starts by asking whether our materially driven life undermines the spiritual purpose of our existence. The authors posit five foundations upon which human beings can build fulfilling lives: spiritual, moral, social, intellectual, and physical. This sweeping and inspiring work lays out a blueprint for the survival of humanity through the spectrum of these foundations.
What Gibbs and Grey have done is create a blueprint for human and social responsibility. Solutions, they suggest, can no longer be left to the leaders of our great institutions—alone, but must arise from the collective conscience of ordinary people, as well. By adroitly bringing conscience into the equation, the authors do a masterful job of linking individuals and institutions—offering spiritually based hope for the prospect of solutions reflecting the oneness of humanity.
Advance praise for Five Foundations of Human Development, which has been compared to The Purpose-Driven Life, The Secret, as well as the writing of C. S. Lewis, suggests it is destined to make its mark in Christian theology. It's the inspiring product of the greatness that can happen when Christian men from wildly different backgrounds meet at the crossroads of faith and objectivity.
"Just when the world is losing 'hope' the authors present Five Foundations of Human Development, a body of Biblical (religious) perspectives that underpin academic disciplines such as human relations, engineering, science and technology, economic, history, education and health," says Tabatha Robinson, M.Ed., educator/curriculum coordinator, Darwin, Australia.
Biographical Information
Errol Gibbs is a devout Christian, a researcher into human development, and a former technologist, planning and scheduling engineer/officer, and analyst. Errol strives for congruity of faith, belief, and practice in everyday life. He relinquished a career in project management and business consulting to pursue research of the human condition. He speaks on technical, religious, and philosophical subjects. His peers recognize him for his analytical reasoning and thought-provoking arguments. Errol lives in Milton, Ontario, Canada with his wife.
Philip Grey was born in Leeds, Yorkshire, England, UK, this international evangelist, author, and motivational speaker has served in twenty-six countries. He has an extensive background in international ministerial research and practice. He has held positions from youth pastor to National World Missions Director with the Church of God. He has been the keynote speaker at ecumenical and denominational conferences in many countries. Grey lives in Toronto, Ontario, Canada with his wife and children.
For more information, visit http://www.ffhdwritersinc.com.
Media Contact: Victor Gulotta, Gulotta Communications, Inc., 617-630-9286, http://www.booktours.com, victor(at)booktours(dot)com
###