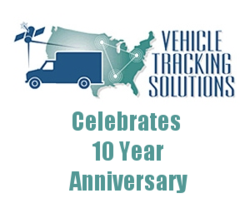 The first 10 years of Vehicle Tracking Solutions' success is based on broadening our vehicle tracking service and technology... We very much look forward to the next 10 years
Deer Park, New York (PRWEB) September 15, 2011
Vehicle Tracking Solutions, LLC., a GPS fleet tracking management solution (http://www.VehicleTrackingSolutions.com), today announced the celebration of 10 years in business.
Founded in 2001 by John M. Cunningham, Jr., Vehicle Tracking Solutions has evolved.
Over the last decade, with technological advances, Vehicle Tracking has evolved continually/continuously, from basic tracking, to a desktop application (FleetMinder) "Track Your Fleet From Your Office Seat", to a web-based application (Webview), to a more complete web-based, real-time, GPS fleet vehicle tracking management solution with its very own advanced software application named, Silent Passenger. A new application developed to meet the industry's current and future needs.
"The first 10 years of Vehicle Tracking Solutions' success is based on broadening our vehicle tracking service and technology," said John M. Cunningham, Jr., President of Vehicle Tracking Solutions. "During our 10-year life span, our customer service-first approach has never wavered and will continue to drive business expansion and strengthen our relationships with our current and future customers."
Vehicle Tracking Solutions has demonstrated a reliability and efficiency for more than a decade. Providing accurate and real-time fleet tracking reporting. Too add, Vehicle Tracking Solutions specializes in complete customization for your specific business needs.
"Today Vehicle Tracking Solutions offers a comprehensive GPS fleet vehicle tracking management system that can be customized to bring about a meaningful difference for any company looking to run a more efficient business," said Kerri Allmer, of Vehicle Tracking Solutions."
"We very much look forward to the next 10 years".
Get Started For Free! For more information, please visit http://www.vehicletrackingsolutions.com.
About Vehicle Tracking Solutions
Founded in 2001, Vehicle Tracking Solutions is a Long Island based company and a leading provider of Automatic Vehicle Location (AVL) devices and fleet management solutions. VTS tracks more than 18,500 vehicles for over 1,150 clients and is the largest GPS tracking provider in the New York metro area. VTS has been named to the Inc. 5000 list of fastest-growing private companies in the U.S. on numerous occasions.
###