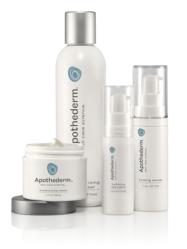 Bothell, WA (PRWEB) September 14, 2011
Seattle-based dermatology biotech company Helix BioMedix has announced the introduction of a new line of anti-aging products.
The anti-aging line is backed by 20 years of the company's research and development in the skin care field. The initial system has been developed for normal to dry skin, and the four products can work alone or synergistically to help fight the signs of aging skin. Three of the products have been formulated with SmartPeptideTM technology to help reduce the appearance of fine lines and wrinkles. Apothederm product ingredients are carefully selected to hydrate dry and sensitive skin, leaving the skin supple and moisturized.
Apothederm's Firming Serum is power packed with two SmartPeptides to provide the ultimate boost in anti-aging for skin. Apothederm Moisturizing Cream is an emollient formulation with palmitoyl hexapeptide-14 that targets fine lines. Apothederm Moisturizing Cleanser contains avocado oil which nourishes and protects the skin while it cleanses without stripping skin. Formulated with hexapeptide- 21 (a SmartPeptide), Apothederm Hydrating Eye Cream controls visible photo-aging in the eye area while hydrating the delicate area around the eye.
Backed by science, Apothederm skin care products are dermatologist tested and undergo other testing to confirm that the products will provide visible results. Clinical studies showed that 94% of participants reported firmer skin in 14 days when using the Firming Serum and 97% when using the Moisturizing Cream while 83% of participants reported a decrease in fine lines and wrinkles after 14 days when using the Hydrating Eye Cream. (Data on file.)
"All of these products target the signs of aging so your skin looks youthful and radiant," states Robin Carmichael, COO of Helix BioMedix. "Vitamins and antioxidants protect the skin from free radical damage and SmartPeptide technology has been incorporated to promote anti-aging benefits in dry and even sensitive skin."
SmartPeptides have been developed through years of research by Helix BioMedix. This technology is a new generation of patented, bioactive peptides that mimic precise amino acid sequences of the skin's own natural protect and restore functions. Uniquely different SmartPeptides are highly precise and can target a very specific skin problem, such as the appearance of fine lines and wrinkles, loss of elasticity, loss of firmness and definition, appearance of darkened areas or general unevenness of skin tone, rough texture and thinning of the skin.
Products vary in price from $28 to $75 and are currently available at http://www.apothederm.com
About Apothederm Products:
Helix BioMedix understands that what consumers put in their bodies and on their skin is important and their products are formulated with that in mind. Apothederm products are paraben and fragrance-free and dermatologist tested.
For more information on Apothederm, please contact Debra Hofland at Libra Design and Media, 608-864-0428, or dhofland(at)libradesignandmedia(dot)com.
Helix BioMedix is a Seattle-based dermatology biotech company that develops the most advanced bioactive peptides. With more than 20 years of research and development, Helix BioMedix has patents on hundreds of products and thousands of peptides some of which are used leading skin care companies around the world. Apothederm by Helix BioMedix offers the most technologically advanced ways to topically treat consumer's everyday skin concerns. The Company delivers high-tech skin care and their effective formulations treat underlying conditions to restore and maintain the health and appearance of skin. Apothederm products can be found online at http://apothederm.com/.
###