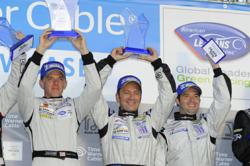 We're confident that the new cost-capped Honda prototype will produce good results on the track.
(PRWEB) September 15, 2011
A new chapter in the already expansive and successful history of Level 5 Motorsports beckons this weekend, as the championship-winning sports car organization debuts its new Honda Performance Development ARX-01g in the ModSpace American Le Mans Series Monterey presented by Patrón.
Less than two months after announcing a mid-season switch to Wirth Research's new cost-capped LMP2 car, drivers Scott Tucker, Christophe Bouchut and Luis Diaz will turn the Microsoft Office 2010-sponsored car's first laps in Saturday's six-hour race into the darkness on the famed Laguna Seca circuit.
For Level 5 team owner Scott Tucker, the bold and unprecedented move to HPD and Wirth Research's bespoke prototype came in the wake of evolving prototype regulations by Le Mans organizers, the Automobile Club de l'Ouest, as well as increased competition in Europe.
Despite the challenges, Level 5 secured podium finishes in the 24 Hours of Le Mans (France) and Intercontinental Le Mans Cup Six Hours of Imola (Italy), which added to its early season success of wins in the American Le Mans Series Mobil 1 Twelve Hours of Sebring and Grand Prix of Long Beach, as well as last month's four-hour endurance race at Road America.
"We're confident that the new cost-capped Honda prototype will produce good results on the track," Tucker said. "Having been partners of Honda since the start of the year, we've seen gains in the engine department and look forward to working with them on an even closer level. There's no doubt this package will be a front-runner in LMP2 and we're looking forward to getting started with it this weekend."
Tucker, a three-time national driving champion, will again be the busiest driver in the Laguna Seca paddock this weekend, having also been entered in the IMSA-sanctioned Cooper Tires Prototype Lites and Porsche GT3 Challenge by Yokohama events. Both races will take place on Saturday morning prior to the start of the ALMS round. It's a similar schedule Tucker achieved last month at Road America, where he scored four podium finishes, including two victories, in a single day.
The focus for Level 5 co-drivers Bouchut and Diaz this weekend, however, will be exclusively with the new HPD ARX-01g, an evolution of Honda's championship-winning LMP1 and LMP2 car. Both drivers, along with the team's Intercontinental Le Mans Cup pilot, Joao Barbosa, gained virtual laps of the 2.238-mile, 11-turn Laguna Seca circuit last week at Wirth Research's state-of-the-art simulator in Bicester, England, to help prepare them for the debut run.
Diaz heads to Laguna Seca with the most knowledge of the car, having driven the Acura ARX-01b, a predecessor to Level 5's new HPD, in the 2009 American Le Mans Series season, earning eight victories in 10 races, and the LMP2 championship.
"There are many strengths for this car," Diaz said. "I think it's very good in terms of aero and does what you need for endurance racing. I'm very pleased with this and, hopefully, we'll have a good race at Laguna Seca. We know that it's going to be challenging, but I think everybody within the team is very motivated. I think, if we can put a good race together, we could challenge for the overall podium."
Having spent the last two weeks at Wirth Research building the first of two new HPD prototypes, the Level 5 crew flew directly to California early this week to shake down the first car at Infineon Raceway. With the first running now in the books, the David Stone-led team is full speed ahead in preparing for Saturday's six-hour American Le Mans Series round.
"While this weekend is technically a race, we're heading in with the philosophy of it being a test race for us," Stone said. "It will be the first time to see how the car reacts in a race environment, so we'll be shaking it down, analyzing how it is in competition and getting some sense of the car from the drivers.
"Everybody that I've talked to about this car said that the HPD ARX's love Laguna, so that's a good thing and should help us in getting up to speed with the new package. But, we're really gearing up towards the big race at Petit Le Mans, where our hopes and goals are to arrive with two cars and be very competitive there against the European teams coming over."
The ModSpace American Le Mans Monterey presented by Patrón is set for 1:30 p.m. PT (4:30 p.m. ET) on Saturday, Sept. 17. The race will air on ESPN2 from 1 to 3 p.m. ET on Sunday, Sept. 18. Live coverage will be available in the U.S. on ESPN3.com or outside the U.S. on http://www.americanlemans.com. Rogers Sportsnet in Canada and MotorsTV in Europe also will air live coverage.
# # #