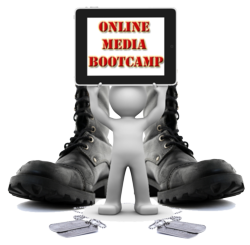 Companies are overwhelmed with all of the new social media communities and tools that are out there and have a hard time figuring out where to start and what channels should be at the top of their list
King of Prussia, PA (PRWEB) September 16, 2011
Companies are grappling to get their arms around all channels of online marketing and get their marketing teams up to speed with the latest trends happening. It's a tall order to fill when new social media communities are sprouting up and taking hold of niches every three to six months. That's why finding the most current training is imperative to any team's success and that's where Online Media Bootcamp (http://www.OnlineMediaBootcamp.com) comes in to help.
The exclusive all day internet marketing training program focuses on giving marketers the tools they need to get their online marketing strategies off on the right foot. From learning how to research where the communities are to measuring the results and everything that comes in between, this full day training will give any marketer the know-how not only create strategies but implement them in resourceful and efficient ways.
Online Media Bootcamp also provides a more intimate training environment than most conferences or online training series since the classroom capacity is set to just 35 students. "The limited class size allows for our trainers to speak in a more one-on-one environment with the students and share our knowledge and experience with them in a more productive way," explained Liana "Li" Evans, one of Online Media Bootcamp's professional marketing trainers.
"Companies are overwhelmed with all of the new social media communities and tools that are out there and have a hard time figuring out where to start and what channels should be at the top of their list," Evans continued to explain, "this is why Online Media Bootcamp's set of courses focuses on the core educational points any company will need to step into the worlds of online and social media marketing."
The online marketing training will be held on November 3, 2011 in King of Prussia, PA just north of Philadelphia at the Valley Forge Convention Center. The training is affordably priced and has early bird rates until October 20, 2011, group rates are also available upon request.
About Online Media Bootcamp
The Online Media Boot Camp is a full-day, intense, online marketing training conference that will give you the background and tools you will need to learn how to market in this new online and social media intense environment. Sessions cover search and social optimization, public relations in a new online world, conversion and usability factors and many other subjects that marketers are trying to get a handle on to improve their bottom lines.
The training event kicks off in King of Prussia, PA on November 3, 2011 and will offer future trainings focusing on specific online marketing subjects. For more information or to sign up for the training visit http://www.OnlineMediaBootcamp.com.
# # #