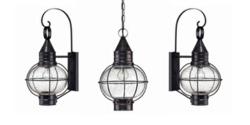 A simple switch from clear to frosted bulbs [...] can have an impact on how a room looks and feels.
San Mateo, CA (PRWEB) September 23, 2011
Labor Day has come and gone and with the end of summer here, it's time for homeowners to start thinking about their end of year remodeling and redecorating projects. Hinkley Lighting Gallery, a leading online retailer of luxury lighting goods, is offering light fixtures in a variety of styles perfect for the sophisticated homeowner, interior designer or DIY decorating fanatic.
According to Karishma Baijal, spokesperson for Hinkley Lighting Gallery, homeowners can alter their home styling this fall and winter with top quality yet affordable indoor and outdoor lighting fixtures:
"Many homeowners overlook the value that home lighting adds to not only their property but also the atmosphere of living spaces. A simple switch from clear to frosted bulbs, or incandescent to eco-friendly options, can have an impact on how a room looks and feels. Each room has a function, so different types of fixtures should be considered in order to create the desired ambiance."
As reported by The New York Times' preview of the London Design Festival in an article dated September 12, fall and winter decorating trends call for workmanship, handcrafted furniture, lighting and textiles. Following suit, Hinkley Lighting Gallery offers light fixtures inspired by the changing colors of nature and the cold nights of winter. Living room and bedroom lighting call for ambient illumination achieved by incorporating ceiling mounts and chandeliers into lighting design. Kitchens and dining rooms receive ample task lighting from pendant lights. For elegant bathroom lighting, Hinkley Lighting Gallery suggests homeowners use innovative vanity lighting and wall sconces. The Company also advises transforming outdoor areas with hanging lights, deck lanterns, post mounts and other outdoor lighting treatments.
As incentive to redecorate during the colder months, Hinkley Lighting Gallery is currently offering a 50% discount on selected light fixtures. All items come with an additional two-year warranty and a 110% price match guarantee to give customers ultimate product satisfaction.
"Hinkley Lighting Gallery prides itself on bringing top quality luxury light fixtures to homeowners across the nation," closes Ms. Baijal. "This fall and winter, we want our customers to be able to redecorate or remodel while remaining well within their budget. By offering affordable and stylish lamps, chandeliers and other treatments, Hinkley Lighting Gallery is allowing customers to style their homes exactly the way they want."
For more information, visit http://www.hinkleylightinggallery.com.
About Hinkley Lighting Gallery
At Hinkley Lighting Gallery, our goal is to provide you with the finest lighting fixtures manufactured by Hinkley Lighting. Hinkley Lighting combines design and functionality to produce the right lights for you – whether it is home lighting or outdoor lighting. With over 80 years of experience in the lighting industry, Hinkley Lighting is able to produce the finest quality products that address the needs of its customers.
###