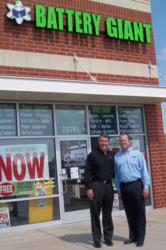 "Our stores are hitting or exceeding their projected revenue marks in the first year of operation", says Kurt H. Smith, CEO of Battery Giant.
Sterling Heights, Michigan (PRWEB) September 15, 2011
Battery Giant is proud to call Michigan home. An emerging leader in the growing battery industry, they are a Michigan born and based company that continues to see growth and success despite a tough economic climate. The company is celebrating their third anniversary and has seen a 200 percent growth in the company since 2010. According to Kurt H. Smith, CEO of Battery Giant, "Our stores are hitting or exceeding their projected revenue marks in the first year of operation." Battery Giant's success is credited to franchise owners' exceptional customer service and knowledge. With the opening of their first store three years ago in Michigan, the company has since branched out to the Ohio, Illinois, and Arizona markets.
Owned and operated by battery professionals, Battery Giant has a unique business model, providing a balanced revenue stream coming from both the commercial and retail sales market. Since they are not a franchise holding company, Battery Giant has a lower start-up fee, and a favorable royalty structure using the stair-step approach to royalty based on franchisees' total sales volume. "We try harder because we're not the biggest, just working to be the best in our class and our success truly depends upon the franchisees' success", says Smith.
Three years in operation isn't all that Battery Giant has to celebrate. According to the International Franchise Association, the number of franchised businesses nationwide is set to grow about 2.5 percent this year over last year, as franchise growth continues to exceed other business sectors. Currently there are over 825,000 franchised businesses in the U.S. responsible for creating 18 million jobs and generating 2.1 trillion dollars to the economy. Feeling confident about the company's tremendous growth last year, Battery Giant President, Greg Danziger says, "We look forward to partnering with ambitious business owners interested in entering the battery market."
Enthusiastic about what the industry has to offer enterprising entrepreneurs, Danziger speaks optimistically about the battery market. "As Michigan's, and the rest of our country's economy continues to fight through our financial challenges, there is a bright spot in the growth market of batteries for our customers to consolidate their purchases with Battery Giant, and for entrepreneurs to consider our growing franchise network in population centers where consumer and commercial battery specialists are in demand."
About Battery Giant
Headquartered in Sterling Heights, Michigan, Battery Giant currently operates several franchised retail locations in Michigan, Illinois, Arizona, Florida and Ohio. Battery Giant carries a wide range of replacement batteries and products for over 100,000 electronic devices, plus offers an electrifying business opportunity for franchise ownership in the ever-expanding battery market. With more than a decade of service in retail battery sales, wholesale distribution, telecom engineering, stand-by power systems, and mobile equipment power, Battery Giant provides the most innovative and cost-effective solutions along with fast, friendly and knowledgeable customer service.
For more information about Battery Giant and our energizing franchise opportunities, visit our website at http://www.batterygiant.com or call Greg Danziger, President, at 586-446-9502, ext. 243.
###