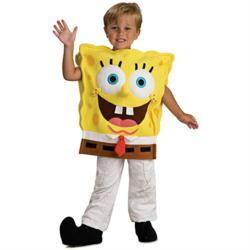 Visitors searching for Spongebob costumes are probably looking for a funny choice for an upcoming party in light of the most recent study released concerning the SpongeBob SquarePants cartoon
Mancos, CO (PRWEB) September 15, 2011
Spongebob costumes have become a popular search over the past week at TotallyCostumes.com, an online costume retailer. They believe it is due to the most recent study released by the journal Pediatrics stating that the SpongeBob Squarepants cartoon negatively affected 4-year-olds' by hindering abstract thinking, short-term memory and impulse control.
SpongeBob SquarePants is an animated television series on Nickelodeon about an energetic and optimistic sea sponge and his adventures with his various friends in the underwater city of Bikini Bottom. With the impact it has had on popular culture since year 2000, it is no surprise that officially licensed Spongebob Costumes for kids and adults has been made available to consumers. TotallyCostumes.com is one of the authorized retailers to offer the licensed collection of Spongebob Costumes.
"Visitors searching for Spongebob costumes are probably looking for a funny choice for an upcoming party in light of the most recent study released concerning the SpongeBob SquarePants cartoon," stated Nova of TotallyCostumes. The study suggests that watching just nine minutes of Spongebob Squarepants can cause short-term attention and learning problems in preschoolers.
TotallyCostumes.com offers a diverse selection of Spongebob costumes for all age groups including toddler, kids, adults and even pets! The SpongeBob Dog Costume and sexy Spongebob costume for women are the newest styles offered at the online costume retailer. The women's Spongebob costume allows girls to take part in the cartoon character fun. The SpongeBob SquarePants costume generally consists of a 3D character face tunic and black shoe covers. Customers looking for a funny character for 2011 need to look no further than the SpongeBob Halloween costumes offered at TotallyCostumes.com
About the Company:
TotallyCostumes.com, a leading retailer of Halloween costumes and costume accessories for all occasions, makes sure the party never stops! This e-commerce costume retailer believes in carrying a large selection of high quality costumes in all sizes, styles and themes to fulfill any party, costume or event requirement. They have a dynamic team that works together so their customers receive their order quickly. Their friendly customer care team is dedicated to providing their customers with diligent service while their shipping facilities work efficiently in shipping your order out as quickly as possible.
###