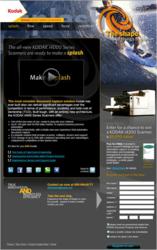 Rochester, New York (PRWEB) September 15, 2011
Catalyst, a Rochester, New York-based direct and digital marketing agency, today won two WebAward Competition awards from the Web Marketing Association for their Web development work for Eastman Kodak Co. and The Hillside Family of Agencies.
To launch Kodak's i4000 Series Scanners, Catalyst developed a content-rich microsite to serve as the hub of a multichannel campaign. The site, located at http://www.shapei4000.kodak.com, included video, industry news, educational materials, product offers, and a free, downloadable independent report from Forrester Research, Inc.
The Hillside Website (http://www.hillside.com) utilized the industry-leading platform developed by Ektron, Inc., a Catalyst partner. Ektron's content management system allowed Hillside Family of Agencies to easily update and add content without further help or incurred costs from an outside vendor. The site included customizable search options, informative podcasts, rich content, and interactive elements.
The Web Marketing Association produces the WebAward Competition. Now in its 15th year, the WebAward program is the premier annual Website award competition.
About Eastman Kodak Co.
As the world's foremost imaging innovator, Kodak helps consumers, businesses, and creative professionals unleash the power of images, information, and printing to enrich their lives.
About The Hillside Family of Agencies
Hillside Family of Agencies is one of the largest non-profit agencies in New York state and has been a cornerstone of the Rochester, NY, community for more than 170 years. Hillside Family of Agencies provides more than 120 services to children and families at more than 40 locations across Western and Central New York and in Prince George's County, Maryland.
About Catalyst
Catalyst (http://www.catalystinc.com) is a direct and digital marketing agency that helps clients acquire, retain and develop long-term relationships with their customers. We combine intellectual curiosity and inquisitiveness with hard-core analytics, deep customer insight and a measurement mindset to take the guesswork out of marketing decisions. We call it Science + Soul. Headquartered in Rochester, NY, our clients include AAA, Assurant Health, Eastman Kodak Company, First Niagara Financial Group, GE Money, Heraeus Kulzer, Neff Motivation Inc., Oreck, and Valvoline, among others.
Follow us on:
Facebook:
http://www.facebook.com/scienceplussoul
Twitter:
http://twitter.com/scienceplussoul/
LinkedIn:
http://www.linkedin.com/company/26721