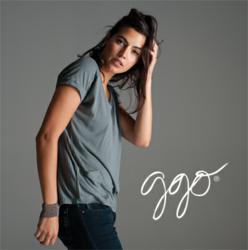 "With our new collections women can feel good about themselves and what their doing for the planet's health as well!"
L.A., CA (PRWEB) September 16, 2011
GGO Clothing (http://www.GGOclothing.com) is launching their dynamic new Spring 2012 collections at the upcoming MODA NYC Ready-To-Wear tradeshow at the Javits Center, September 18-20th. This season GGO Clothing is offering their smart organic fabric lines in two collections, Fashion/Lifestyle and Active.
These seasonal GGO lines were created for women who want to look fabulous from sunrise to sundown. Inspired by nature's pinks, greens and blues, and by designer Steve Sas Schwartz's fine art (http://www.SASart.com), GGO Clothing features fresh novel designs including the Moksha Scoop - a yummy, sheer, sexy striped tee, the Lila top - an elegant Practice top, the Satori dress - an empire waisted panel dress made out of GGO's delicious dual-layer jersey, and super hip variations of track pants, ironically entitled Track Pant.
For Spring '12, GGO Clothing is also releasing yet another new signature fabric they developed, this time from a blend of recycled plastic bottles, recycled cotton and organic bamboo viscose. The new Moksha Scoop-neck and Indra V-neck tees are both made out of this eco-friendly whisper thin textile masterpiece.
GGO's Spring '12 collections appeal to fashion boutiques and spas, as well as yoga, dance, and fitness studios. There is something for all types in these collections. "When a woman puts on GGO (pronounced G Go, for those who know)," Schwartz says, "I want her to feel empowered, sexy, and most of all comfortable. With our new collections women can feel good about themselves and what their doing for the planet's health as well!" From GGO's core active pieces such as the Sadhana yoga top, the Spaghetti Tank, and the Ananda yoga pants, to the ready-to-wear fashion pieces, which include the batwing Float top, Sita dress, and GGO's Classic Wrap, women can find the perfect piece or outfit to carry them through their day.
And, as always, GGO Clothing mills all of their bamboo fabrics and sews everything in downtown Los Angeles, supporting their local communities while being as 'green' as possible.
GGO Clothing – organically engineered styles for Fashionistas and Active folks.
To view the collections at MODA please contact Vincent Nola via email -vincent(at)GGOclothing(dot)com - or by phone (760) 969-2202.
###