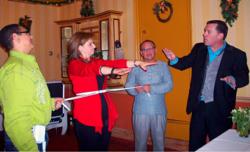 Randy Masters is "The Wild Man of Comedy Magic!"
New York, New York (PRWEB) September 15, 2011
Magician Randy Masters presents: "Comedy Magic Cabaret" for two shows only!
Lawyer-turned-magician Randy Masters (Parks and Recreation, Glory Daze, Judy Moody) presents his "Comedy Magic Cabaret" for 2 days only at The Roy Arias Cabaret. Randy combines comedy magic, mind reading, and audience-participation into a fun and memorable show that is appropriate for ages 8 to 108. The hour-long show includes illusions with coins, borrowed rings, ropes, silks, cards, borrowed bills, and potatoes. Randy will also present his signature effect, "The Shanghai Chain Shackle Escape--of Death!"
''Comedy Magic Cabaret' is an amazing ride for the audience," says Danny Goodman who saw a preview of the show. "It's funny, unpredictable and astounding. Now I finally know why they call Randy Masters 'The Wild Man of Comedy Magic.'"
Where: Roy Arias Theatres, 300 W. 43rd St. (at 8th Avenue), 5th floor, New York, NY
When: Saturday, September 24th at 7:00 pm and Sunday, September 25th at 3:00 pm
Tickets are $20.00 and will be sold at the door.
http://www.royariasstudios.com
Magician Randy Masters is available for interviews and on-airs performances. Please contact for details.
About Magician Randy Masters:
Randy Masters grew up just north of Syracuse, New York, and got bit by the magic bug at the age of 8. By the age of 10 he was performing magic shows for the entire school. He was also called onstage to assist the late, great Doug Henning in one of his magic shows that he performed in Syracuse.
Randy later received his BFA in Drama/Acting from Syracuse University. After a stint in the Army (military police) he attended law school at Regent University and has been licensed to practice law since 1992. As Randy states: "I was under the mistaken assumption that becoming a lawyer would help pay the bills." His law practice concentrated in bankruptcy, estate planning, criminal defense, and general practice. The acting training definitely helped him in the legal field, because after his first jury trial the judge told him: "That was one of the best closing arguments I've ever seen!"
However, he found the legal field to be dry and uncreative (or, as he says, "skull-numbingly boring"), so he was irresistibly drawn back to magic and acting. For the last several years Randy has performed his special brand of comedy magic and mentalism at corporate events, comedy clubs, cocktail parties, burlesque and cabaret shows, cruises, and countless private events. He also competed in "The Great Canadian Laugh-Off" in Toronto, Canada.
As an actor, Randy was called to play the "Telethon Magician" for the telethon episode of NBC's "Parks and Recreation," starring Amy Poehler. He was featured as "Clown Uncle Matt" in the movie, "Judy Moody and The Not Bummer Summer," starring Heather Graham. Randy has also appeared on "Glory Daze" (as the campus cop who busts the frat boys in the pilot episode), "Private Practice," "Grey's Anatomy," "Call 911," Raising the Bar," "Blue Bloods," Louie," and "World's Astonishing News," among other shows.
For Immediate Release Contact:
Randy Masters
323.717.8085
Email Randy at randymastersny(at)aol(dot)com
#####