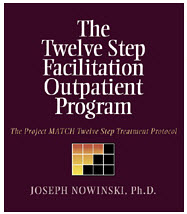 Twelve Step meeting attendance frequency following addiction treatment was found to help predict abstinence from substance use in young women.
Center City, MN (PRWEB) September 20, 2011
A recent study showed that the frequency of attending Twelve Step mutual support meetings following addiction treatment was found to help predict success in early recovery for young women. Twelve Step Facilitation is listed on SAMHSA's National Registry of Evidence-based Programs and Practices (NREPP).
According to a data analysis study conducted by Hazelden's Butler Center for Research, Twelve Step meeting attendance frequency effectively predicted both abstinence from substance use, as well as number of drinking days for 139 young women, age 17-23, attending a Twelve Step-based residential treatment for a substance use disorder.
Based on the study, mental health and treatment professionals who administer one-to-one and group treatment for substance abuse will likely be taking a fresh look at Twelve Step Facilitation as a cornerstone for their facility's treatment offerings, and to three Hazelden publications as their official texts.
Twelve Step Facilitation Outpatient Program by Joseph Nowinski is the only manualized version of the Twelve Step model proven effective in Project MATCH, a nationwide study that found TSF as effective as motivational enhancement and cognitive-behavioral treatment. It can serve as the foundation of any substance abuse treatment program.
The 12-session evidence-based outpatient treatment program is for clients with substance abuse disorders. Its primary goal is to facilitate active involvement in a Twelve Step fellowship such as Alcoholics Anonymous or Narcotics Anonymous. The Twelve Step Facilitation Outpatient Program works in community-based, corrections, private practice, and mental health settings, and it is designed for one-to-one individual facilitation sessions, as well as group treatment.
Twelve Step Facilitation Outpatient Program Facilitator Guide, also by Joseph Nowinski, can maximize the effectiveness of The Twelve Step Facilitation Outpatient Program. The easy-to-use facilitator guide is available as a separate component so each professional at a facility can have their own copy.
The Twelve Step Facilitation Handbook with CE test by Nowinski and Stuart Baker is an NAADAC-approved manual which includes a post test worth eight CE hours upon successful completion.
For more information about the study on substance use disorders and young women, titled "12-Step Involvement and Treatment Outcomes among Young Women with Substance use Disorders," refer to Alcoholism Treatment Quarterly, 29, 204-281.
The Butler Center for Research, the research arm of the national nonprofit Hazelden Foundation, is dedicated to improving recovery from addiction by conducting clinical and institutional research, collaborating with other research centers, and communicating scientific findings.
Hazelden, a national nonprofit organization founded in 1949, helps people reclaim their lives from the disease of addiction. Built on decades of knowledge and experience, Hazelden offers a comprehensive approach to addiction that addresses the full range of patient, family, and professional needs, including treatment and continuing care for youth and adults, research, higher education, public education and advocacy, and publishing. It currently has facilities in Minnesota, Oregon, Illinois, New York and Florida.
###