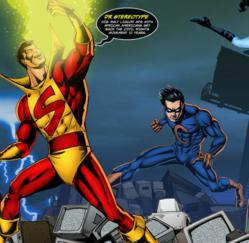 "We wanted to explore social media in an exciting new way to promote our company's services, not only illustration but interactive programming using illustration and animation," remarks Scott Ownbey, founder and CEO of Storyboards Online.
Miami, Florida (PRWEB) September 15, 2011
Have you always wished you had superpowers? Storyboards Online is inviting ad agency personnel to become their Facebook fan and submit a profile picture for a chance to win a starring role as a member of the Super League of Creativity in the ad industries first interactive comic book! Storyboards Online will draw a super hero character based on each entrant's likeness and the contestant will then assign themselves a superhero name with super powers. Voting will be open to the general public. The top 5 characters with most votes will be selected to appear and battle the evil forces of advertising in an interactive comic titled "30 Seconds" that is slated to be distributed online in HTML 5 and on the iPad March 15, 2012.
Entrants superhero characters and powers must be centered on the theme of advertising or media and be original and of course as excellent as possible as other industry peers will judge the winners. Ad agency personnel, media and entertainment professionals from all disciplines are welcome to enter. The contest will end after 50 contestants have entered. Voting will end October 20, 2012.
The interactive comic titled "30 seconds" will pit the evil forces of advertising known as the Legion of Clichés against the selected winners who will be known as the Super League of Creativity.
"We wanted to explore social media in an exciting new way to promote our company's services, not only illustration but interactive programming using illustration and animation for HTML 5 and iPad formats," remarks Scott Ownbey, founder and CEO of Storyboards Online. "We have found a massive level of interest from clients around the contest and the chosen comic book medium. Comic books were a natural medium for use as we tell stories using images. After this promotion I think people will find comics aren't just for print anymore."
To enter the contest:
http://www.facebook.com/storyboards
To learn more about the contest:
http://www.storyboards.com/superleagueofcreativity
For more information, press only:
In the US contact:
Scott Ownbey- 954 462.4000 ext 201
scotto(at)storyboardsonline(dot)com
In the UK contact:
Chelsie Sixsmith
chelsie(at)storyboardsonline(dot)com
###