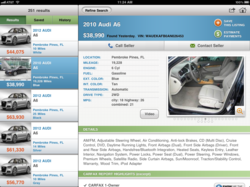 "CarZen is the ultimate 'lean back' car shopping experience"
New York, NY (PRWEB) September 15, 2011
CarZen, makers of the #1 iPad App for Car Shopping, today announced that they have released a major update of the CarZen App, which includes the ability to browse and search through over 2 Million New & Used Car Listings, and a Dealer Locator to search through every car dealer in the country.
CarZen recently passed 120,000 downloads, less than 6 months after launching their App in the App Store. CarZen has seen very strong engagement, with users spending over 11 minutes on average in the App. The App has been highly rated by the technology press, and was a "New & Noteworthy" and "Staff Favorite" App in the App Store.
CarZen's CEO, Nick Gidwani, said of the update: "We rethought the entire car shopping experience to take advantage of the way people use iPads -- making it easier to browse cars and dealers, save anything for later, view large photos or video, and share with your friends or family. CarZen is the ultimate 'lean back' car shopping experience."
Among the updates in the App:

New & Used Listings: CarZen offers 2 Million new & used vehicles for sale, more than any other App on the iPad. Where applicable, CarZen has also added CarFax report highlights and Pre-Owned Videos so that consumers can better understand the specific condition of the car they are looking at, and learn about the car via rich video reviews;
Dealer Locator: Search for the right dealer by accessing our Dealer Locator, featuring every New & Used Car dealer in the country, as well as over 400,000 consumer reviews of those dealerships. Also access dealership hours, links to every single dealership website, location and contact information. The perfect companion for when you have to decide where you are going to shop;
Video Chat: Utilizing the built-in FaceTime App from Apple, users of the CarZen app can now video chat with participating dealers, making it far easier and less time consuming to negotiate and get closer to buying a car;
New Car Video Reviews: With over 2,000 New & Used Car Video Test drives, we are bringing the highest quality video experience available anywhere;
Payment Calculator: Now you can instantly calculate your monthly payment using interest rates and the price of your purchase and your trade-in;
Sharing: Everything you are doing on the CarZen App can now be shared instantly with friends or family using the share feature;
Website: Nearly all content in the site is also accessible in the CarZen.com website, relaunching as a part of this update;
"Our mission is to serve our users with the highest quality experience that is possible. That includes great content, transparency and freedom of choice. With this release, we are able to offer the very best collection of automotive content available anywhere. With nearly half a million reviews of Dealers and New Cars that pull from both consumers and leading automotive journalists, we can offer true transparency - we don't hide the bad reviews! And by offering email and video chat and we can offer users the choice of how they want to take the next step towards purchase."
The CarZen available in the App Store. Download the App on your iPad with this link: http://bit.ly/e9Xbtn
Selected Quotes from Key Content Partners DealerRater.com & WheelsTV:
"CarZen has developed a great car search experience for the iPad which includes accessing car dealers in an incredibly intuitive and fun way. We are very excited to partner with CarZen to integrate DealerRater car dealer reviews into the CarZen App as CarZen serves the fast-growing iPad market."

Chip Grueter, President of DealerRater.com
"Here at WheelsTV we've seen our video test drives deployed in hundreds of consumer and dealer-friendly formats. The CarZen App stands out thanks to CarZen's ease of use, high image quality, quick load time and attractive layout. I highly recommend using CarZen when shopping for a car today."
Jim Barisano, Chairman and CEO, WheelsTV
"CarZen has created a feature rich, easy to use and satisfying car shopping experience for the iPad. We are excited about the ways in which CarZen utilizes content from Chrome and other 3rd parties to deliver what the consumer really needs – a fun, simple and informative way to find their next car on arguably the fastest growing platforms in recent times. In creating this user centric experience, CarZen has certainly helped stretch our imagination as content providers for the automotive industry on the possibilities out there."
Amit Maheshwari, General Manager - DealerTrack Data Services
About Us & Our Content Partners:
About CarZen: CarZen is focused on making car shopping a pleasant experience that can empower consumers to make better car-related decisions. CarZen is auto enlightenment. For more information, visit http://www.carzen.com or http://ipad.carzen.com follow CarZen on Twitter or Like CarZen on Facebook.
About Chrome: Chrome Systems, Inc., provides vehicle content, software, technology and services to deliver complete enterprise solutions to all segments of the automotive retail industry. Chrome pioneered the technology behind electronic vehicle configuration with the
introduction of PC Carbook, and since 1986 has collected, analyzed and enhanced "raw"
automotive data from all manufacturers. Learn more at http://www.chrome.com
About eVox: Evox Images is a 17-year-old company specializing in photo, video and interactive US vehicle imagery and is headquartered in Rancho Dominguez, California. Evox Images offers the absolute, most complete package of unbiased, consistent photo, video and interactive US vehicle imagery. Every vehicle goes through the standardized Evox Production Process, which provides an in-depth view of every vehicle with consistent image content. Learn more at http://www.evoximages.com
About Vast: Vast.com, Inc. works within the automotive industry to create consumer search experiences and online marketplaces for the world's most respected companies. Vast offers the first search and advertising platform optimized to match in-market consumers with ideal, available cars while providing advertisers with access to an efficient marketplace for their unique products and services. Partners such as Orbitz Worldwide, USAA, AOL and Yahoo! have integrated Vast's custom platform into their websites to serve over 30 million consumers per month. For more information, visit http://about.vast.com.
About CarFax: Carfax is the vehicle history expert for used car buyers, sellers and the automotive industry. Carfax created the Vehicle History Report in 1986 and maintains the largest vehicle history database ever assembled, comprising over 8 billion vehicle records from more than 34,000 sources. A Carfax® Vehicle History Report™, the most trusted resource for vehicle history information, is an essential step in the used car buying process. For used car buying tips or to purchase a Carfax® Report, visit http://www.carfax.com.
About DealerRater: DealerRater was founded in 2002 as the first car dealer review website worldwide. With more than 400,000 people joining the DealerRater user community each month, DealerRater is fast becoming the world's #1 online resource for anyone seeking third-party information on automobile dealerships. DealerRater features more than 38,000 U.S. and International car dealers, 300,000 user reviews and over 1,000,000 classified ads. Learn more at http://www.dealerrater.com
About MotorMouths: MotorMouths is an independent provider of automotive review data and analysis. MotorMouths offers easy access to published reviews by expert critics, and unbiased analysis of automotive criticism. Basically, MotorMouths let car shoppers quickly see what leading critics think about every new car, so that they can choose the right one. Learn more at http://www.motormouths.com
About WheelsTV: Headquartered in Acton, Massachusetts, Automotive Networks Corporation, d/b/a WheelsTV (http://www.wheelstvtestdrives.com), creates and distributes exclusive original content domestically and worldwide on the Internet, broadband, VOD and 3G mobile platforms. WheelsTV's patent-pending products include Top 200 Test Drives and 1:00-on-One Vehicle Profiles, providing the optimal consumer experience to its distribution partners.
###