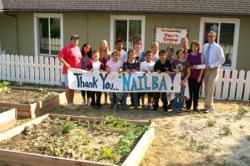 We are very pleased to be able to help the community youth center broaden their scope and I'm looking forward to seeing how this grant will benefit the children of our community.
White Salmon, WA (PRWEB) September 20, 2011
CPS- Impact Insurance (CPS- Impact) was recently awarded a $13K grant from the National Association of Independent Life Brokerage Agencies (NAILBA) to support the Washington Gorge Action Programs (WGAP). The grant will be used to help fund the WGAP's "Character Counts" program which is designed to provide at-risk youth the opportunity to realize their potential and set them up for success.
Since its founding in 1968, the Washington Gorge Action Programs have been offering a variety of programs and services to provide for the ongoing, emergency and crisis needs of both low and moderate-income individuals and families. In addition to these in-house services, WGAP offers information and referrals to other resources, agencies and organizations that provide additional types of services and programs.
The "Character Counts" program will teach at-risk youth the "Six Pillars of Character" including responsibility, respect, caring, trustworthiness, fairness and citizenship. The expectation of "Character Counts" is that by increasing a child's knowledge and understanding of good character, positive changes will occur. Risk factors leading to substance abuse, early sexual engagement and crime will be reduced by increasing self esteem, leadership skills and bonding with the local community.
This program will begin in October 2011 at the Community Youth Center and will be available for at-risk youth between the ages of seven and 17.
The NAILBA Charitable Foundation supports recognized charities that serve the needs of children in the US. The funds that are donated are collected from the 350 member agencies, like CPS-Impact, through donations and silent live auctions. In its nearly 10 years in existence, the NAILBA Charitable Foundation has given away more than a million dollars.
This is the second year in a row Jess Wardwell, Vice President of Marketing for CPS-Impact, has secured a grant for a White Salmon-based charity. "While searching for a local charity this year I was introduced to Linda Schneider, WGAP's executive director. After we discussed the "Character Counts" program I was pleased to submit the grant application on behalf of WGAP." The quality of their program aligned perfectly with NAILBA's goals. "We are very pleased to be able to help the community youth center broaden their scope and I'm looking forward to seeing how this grant will benefit the children of our community."
CPS-Impact is a locally owned and operated insurance brokerage. CPS-Impact has been helping families and businesses find the most affordable Life, Disability and Long Term Care Insurance for over 30 years.
About Washington Gorge Action Program:
For more information about the Washington Gorge Action Program please visit http://www.wgap.ws/index.php
About CPS-Impact:
For more information about CPS- Impact please visit http://www.cpsinsurance.com/affiliates/affiliate-offices/white-salmon-wa.html.
About CPS Insurance Services:
CPS Insurance Services (http://www.CPSInsurance.com) has built a solid network and established a substantial presence across the USA as the leading provider of products, service and support in the insurance industry. Celebrating 37 years of continued success, CPS is dedicated to meeting and exceeding the needs of affiliate agencies and individual producers providing a balanced mix of the latest information and technologies, along with years of industry knowledge and service expertise.
The CPS marketing team is equipped with CLU, ChFC, and LOMA designations, offering strategic and advanced consulting, case design and management, point of sale support, immediate turnaround proposal service, field underwriting expertise and application, licensing, and contract processing with status reports. By partnering with CPS, affiliates and producers have access to the best options available in the insurance and financial services industry. CPS understands the market and its ever-changing targets and delivers the level of service and support that each client expects and deserves.
CPS Insurance Services, established in 1974 - providing brokers with the top Companies, the most competitive Products, and the best Service in the industry. For all your insurance needs!
Find CPS on Facebook at http://www.facebook.com/cpsinsurance , follow CPS on Twitter at http://www.twitter.com/cpsinsurance or watch us on YouTube at http://www.youtube.com/user/CPSInsurance.
CONTACT:
Kara Bautch
Marketing / PR Associate
CPS Insurance Services
marketing(at)cpsinsurance(dot)com
###