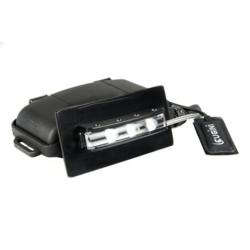 The Discover follows the trend of 'lighter and brighter tools' for first responders. Riot control tactics differ around the world but a shield with a bright light and disorienting strobe is a quick, easy and non-lethal way to help officers regain control
Vista, CA (PRWEB) September 21, 2011
FoxFury Lighting Solutions, designer and manufacturer of professional portable LED lighting, has released its new ultra-slim Discover Shield light. The Discover Shield can mount to any riot or tactical shield and is intended for use by military and police organizations including Corrections, SWAT and Special Operations. This 450 lumen CREE LED shield light comes with three operational modes including a varying frequency turbo-strobe for disorientation.
The Discover Shield follows the popular PRO and PRO III Shield lights and offers a lower profile and lower price point. Like the PRO, the Discover securely attaches to a shield via industrial strength VELCRO. This allows the light to be quickly mounted to the shield and also preserves the shield's ballistic integrity as no special holes need to be drilled to attach the light.
"The Discover follows the trend of 'lighter and brighter tools' for first responders.Riot control tactics differ around the world but a shield with a bright light and disorienting strobe is a quick, easy and non-lethal way to help officers regain control", said Mario Cugini, CEO for FoxFury.
The Discover Shield features a single pressure switch to change modes and includes a kill switch on the battery pack. The light has a tough 6061 aluminum exterior and is waterproof, impact resistant and fire resistant. It runs on CR123 lithium batteries.
"The Discover Shield is a quality tool that will help end violence and save lives for police, military and even the general public. It's amazing that such a little light could be so bright and uncomfortable to look at. The turbo-strobe mode is a doozy that will force most people to look away," said Tim Ellwood, LE / Military Sales Manager for FoxFury.
The Discover employs a replaceable polycarbonate lens cover that can be easily replaced if damaged by a simunition or other sharp projectiles. The light can be used for deliberate and dynamic entries / tactics and is designed to fit a wide array of shields including ladder shields, tactical blanket systems, ballistic shields (including body bunker and entry shields) and riot shields.
About FoxFury:
FoxFury Lighting Solutions creates unique and cutting edge lighting products that reflect the needs of our customers, who demand quality and dependability. FoxFury is best known for its niche LED headlamps designed for specific markets including Fire, Industrial, Hazardous Area, Law Enforcement, Forensics and Recreational. FoxFury was formed in August 2003 and operates out of Vista, CA USA.
###