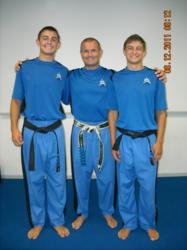 A Family that kicks together sticks together!
(PRWEB) September 15, 2011
Obesity in America has become an epidemic as the rate has dramatically increased over the past twenty years. In 2010 the Centers for Disease Control and Prevention (CDC) reported that no state in the U.S. had an obesity rate under 20%. With this growing statistic in mind, internationalkarateschool.com is encouraging individuals to get in shape and increase their self-esteem by training in martial arts and karate online.
Through martial arts and karate training online, exercising can begin at an individual's own pace and gradually increase over time. Martial arts can provide a total body workout that combines cardio and strength training.
The CDC reports that childhood obesity in particular is becoming more prevalent as one in six children are now obese. With this issue gaining much attention, September became National Childhood Obesity Awareness Month in 2010.
Internationkarateschool.com realizes how important it is to combat childhood obesity, but as the school year begins to pick up speed and workloads become heavier, balancing school and maintaining a healthy lifestyle can become a challenge.
The online program can help solve this problem because children and teenagers are able to train online at their own convenience, enabling them to balance schoolwork and healthy living. Along with helping to create a healthy balance, International Karate School can help motivate children and help create a sense of accomplishment by earning karate belts.
Internationalkarateschool.com is designed for men, women and children of all ages. The program enables martial arts enthusiasts to earn black belts in the comfort of their own home and on their own time. To learn more about the online karate programs that are available please visit internationalkarateschool.com
###