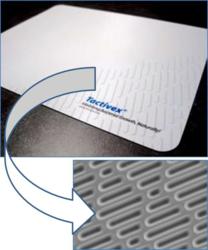 Tactivex with Sharklet provides a new safety net for healthcare environments. Our products provide a revolutionary approach to keeping surfaces cleaner and addressing gaps in current hygiene and cleaning protocols.
Portland, Ore. (PRWEB) September 15, 2011
LGInternational (LGI) (http://www.lgintl.com), a manufacturer of advanced film-based solutions, today unveiled its line of Tactivex™ surface protection products for healthcare environments ahead of ICAAC, the American Society for Microbiology's premier conference on infectious diseases and antimicrobial agents. While at the Chicago event, LGI will showcase its Tactivex product line which features the Sharklet™ surface technology – a distinct microscopic pattern that inhibits bacterial attachment and microbial contamination associated with surfaces.
LGInternational will demonstrate its Tactivex surface protection products at ICAAC booth #613.
Tactivex Mats and Tactivex Skins are used to protect high-touch surfaces that serve as vectors for disease transfer. These surfaces include nurse work stations and counters, medical carts, doors and high-touch areas in patients' rooms including bed rails, overbed trays and bedside tables. Tactivex surface protection products keep surfaces cleaner between cleanings and are intended to provide a new layer of protection and a cleaner environment when hand washing and other cleaning protocols fail.
The Tactivex Mats and adhesive-backed Skins feature the Sharklet™ (http://www.sharklet.com) micro-pattern on the surface of the products. Sharklet is the world's first micro-pattern designed to inhibit the survival and transfer of bacteria including Staph. a, MRSA, E. coli, VRE, Pseudomonas aeruginosa, and a host of other bacteria that serve as primary culprits for hospital-acquired infections. The pattern is free of disinfectants, chemicals and toxins; it is the Sharklet pattern alone that inhibits bacterial survival and reduces transfer of bacteria to hands when touched.
Tactivex Mats and Tactivex Skins are designed for easy deployment and maintenance. Tactivex products come in a range of sizes and constructions that are used in areas proven to be high-touch vectors for bacterial transfer. In addition to standard items, Tactivex products can be easily customized to meet the unique dimension and shape requirements needed to protect a variety of surfaces at risk for bacterial contamination. The products may also be custom-branded with logos and messaging to further promote awareness and a commitment to cleanliness.
Tactivex with Sharklet has been tested rigorously in laboratory environments and evaluated in a clinical setting. In a recent six-month hospital study conducted in Austria, Sharklet-patterned walls demonstrated over 90 percent less microbial contamination compared to un-patterned walls. Further, in repeated bench studies, bacteria present on the Sharklet pattern after just 30 minutes of aerobic exposure is reduced significantly. For example, Sharklet reduces the presence of Pseudomonas aeruginosa by 100 percent after one hour of aerobic exposure to the pattern.
"Surfaces in healthcare that are frequently touched can become contaminated with microbes between cleanings. These microbes can survive long durations and can be transferred by touch. New approaches are needed to help reduce the microbial contamination of environmental surfaces in healthcare facilities," said Mike Martin, president and owner LGInternational. "Tactivex with Sharklet provides a new safety net for healthcare environments. Our products provide a revolutionary approach to keeping surfaces cleaner and addressing gaps in current hygiene and cleaning protocols."
Studies reveal that healthcare janitorial staff wipes only about 50 percent of surfaces targeted for cleaning. In addition, surfaces only stay clean so long as they are not touched again.
Currently, 271 people, the equivalent of one airline crash, die each day from hospital-acquired infections (HAIs). HAIs kill more people than AIDS, breast cancer and auto accidents combined. In a recent CDC paper detailing Options for Evaluating Environmental Cleaning, it was noted that all hospitals are encouraged to develop programs to optimize thoroughness of high-touch surface cleaning at the time of discharge or transfer of patients. While no products were endorsed by the CDC, with deployment of Tactivex with Sharklet, hospitals can improve overall hygiene efforts by keeping surfaces cleaner.
Tactivex products are sold exclusively by LGI and its authorized distributors. For more information and to purchase products, please visit http://www.tactivex.com. To learn more about Sharklet, visit http://www.sharklet.com.
LGInternational
LGInternational develops advanced film solutions for the most demanding markets, including healthcare, semiconductor, storage media, life sciences and electronics. LGI manufactures bacterial inhibition products designed to protect environmental surfaces and decrease bacterial attachment, survival, and touch transference. A strong commitment to research and innovation uniquely positions LGI to provide value to its customers through the discovery of new and better ways of using materials and technology to solve tough problems. For more information, call 1-800-345-0534 or visit http://www.lgintl.com. Learn more about Tactivex at http://www.tactivex.com.
###