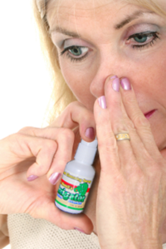 Think of the saline spray as irrigating out the bad stuff that can lead to discomfort.
Lady Lake, FL (PRWEB) September 15, 2011
If not antibiotics, then what? A saline spray can help ease symptoms associated with colds and viruses which include nasal congestion and irritated sinuses by rinsing away the thick nasal mucus, according to Ed Neuzil, ARNP, PhD and developer of Dr. Neuzil's Irrigator nasal cleansing spray (http://www.IrrigatorNasalSpray.com).
A recent Centers for Disease Control study shows medical practitioners are less likely to prescribe antibiotics for virus-related colds, sore throats and respiratory infections because they are effective in treating bacteria-borne illnesses, not viruses.
When seeing patients at his own allergy, sinus and asthma practice in Central Florida, Neuzil will often encourage patients to use a nasal rinse with natural essential oils and herbal enhancements to:

Reduce congestion and cough associated with thick nasal mucus and post nasal drainage;
Soothe irritated sinuses;
Moisturize nasal passages thereby preserving natural protectants in our noses.
"Think of the saline spray as irrigating out the bad stuff that can lead to discomfort," said Neuzil. "When the mucous is gone and the sinus irritation improved, the patient feels better. A sinus wash is especially good for children because it is safe and non-irritating."
Neuzil encourages his patients to regularly rinse their nose with the herbal-enhanced saline spray even when they're not sick, as a preventative measure against illness.

It will rinse out dust, pollen, pet dander and other potential allergic triggers which cause sinus irritation and often lead to congestion, cough, itchy eyes, etc.
The spray will moisturize nasal passages thereby preserving the cilia or tiny hairs in the nose which trap airborne germs and irritants.
Saline sprays will help open up nasal passages so patients breathe easier throughout the day.
Medical experts were concerned that antibiotics were overprescribed, in part, due to pressure from parents expecting a remedy when their child becomes ill. Too much exposure to antibiotics can make a person resistant to the medication.
###