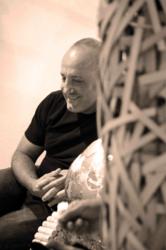 Participants in "Sustainable Art" comprise a "who's who" in the world of contemporary eco-friendly art, including Franklin Londin, a two time Oscar®-winning effects animator for the movies Titanic and Spiderman 2
Santa Monica, CA (PRWEB) September 15, 2011
The New World F.E.S.T, a large-scale, outdoor eco-festival and exposition to be held just steps from the sand in Santa Monica, CA, from October 7 through October 9, 2011, has announced it will feature a one-of-a-kind exhibition entitled "Sustainable Art." Over 30 leading artists from a variety of disciplines will showcase their work. All work embraces the tenets of sustainability via the use of repurposed and recycled objects and green materials. Many artists will be creating new works live.
"We're thrilled to be able to share these environmentally and socially conscious works with the New World F.E.S.T audience," said the exhibition's curator Randi Kreeft. "The art is amazing to behold, and presents a thought-provoking testament of our world and its constant transformation. Watching artists turn societal discards and waste into beauty is quite inspiring."
Participants in "Sustainable Art" comprise a veritable "who's who" in the world of contemporary eco-friendly art, including such distinguished artists as Clare Graham, Cynthia Minet, and Franklin Londin, a two time Oscar®-winning effects animator for the movies Titanic and Spiderman 2. "Sustainable Art" is made possible by the expert curatorial team of Kreeft, whose credits include The Loft at Liz's and SubSpace Art, and Peter Schulberg from Eco-LogicalART Gallery.
Among the pieces to be showcased by Eco-LogicalART Gallery will be its most prominent - Leann Goya's breathtaking "It's In Our Hands", an eco-themed triptych that measures 14 x 48 foot long. Eco-LA will also sponsor several "live" youth eco-art workshops which will include the creation of an 8' by 20 foot mural that will be installed in a mid-city location as part of Eco-LA's Project ReStore street art program.
A distinguished group of the featured artists will create/assemble new works live throughout the weekend. These include Jaime Becker (collage), Dave Lovejoy (assemblage), Michael Pukac (muralist), Alfalfa Jones (recycled clothing), Anne Marie Rawlinson (interactive), Derek McDonald (metal-smith and welder), and top non-aerosol graffiti artists including Eliot Sarrinen, Kym (CBS), Plek One (CBS), and Haste (CBS). A team of world-class muralists will use repurposed billboards as their canvas to also create live, and there will be incredible sand sculpting, befitting the event's beachfront location.
Artists will personally conduct interactive workshops and seminars, and there will be a children's art station offering interactive experiences for kids. And - musician Lonnie Marshall (Weapon of Choice, P-Funk, Fishbone, Red Hot Chili Peppers) will showcase his latest project The Lil' Big Ups, an exciting and unique band comprised of children playing instruments formed from ordinary household trash. Also performing on the Sustainable Art stage will be artist and world beatbox champion, Adam Matta.
The full featured artist roster for "Sustainable Art" is available on the website (http://www.thenewworldfest.com).
A new breed of eco-festival, the family-friendly New World F.E.S.T will encompass nearly 100,000 square feet of beachfront space and feature over 150 exhibitors and 6 stages of entertainment, including live music, innovative demonstrations, product showcases, lectures and seminars, panel discussions and symposiums, and natural cooking workshops. The F.E.S.T will also feature an eco-theater screening award-winning, environmentally focused films, a 'spiritual oasis' with healing techniques, yoga classes and fitness demos, healthy food and beverage, and futuristic technology ranging from virtual reality to robots.
The New World F.E.S.T is being held at Santa Monica Beach Parking Lot 5-South - 2600 Barnard Way, South of the Santa Monica Pier at the intersection of Ocean Park and the beach. Dates and hours for the event are Friday, October 7 from 12:00 p.m. to 8:00 p.m., Saturday October 8 from 10:00 a.m. to 8:00 p.m. and Sunday, October 9 from 10:00 a.m. to 5:00 p.m. Adult admission is $12; children (14 and under) and seniors (60 and over) are $8 and infant and toddlers are free. Admission includes all music, speakers, seminars, stage activities, film screenings, workshops, and access to all exhibits including Sustainable Art.
Additional information on The New World F.E.S.T can be found at http://www.thenewworldfest.com or by calling (855) 500-FEST (3378).
Media requests may be directed to Christopher Buttner, contact info above. High-resolution artwork and artist interviews are available upon request.
###