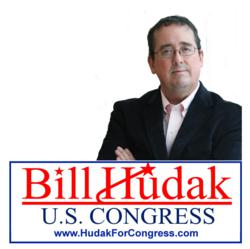 Obama's latest 'jobs' plan, which threatens employers with potential Civil Rights violations in their hiring practices, will only further stifle job growth, or drive more companies overseas.
Boxford, Mass (PRWEB) September 15, 2011
Bill Hudak, http://www.hudakforcongress.com, candidate for U.S. Congress in the Massachusetts 6th Congressional District, today proposed a three-step plan designed to create jobs, foster economic growth, encourage business confidence, and repair the damage caused to our nation's credit rating, without raising taxes and without causing any loss of government services or programs. Hudak's plan allows the free market to flourish, without increased government expense, mandates, or regulations.
"In truth, all our current economic woes can now readily be traced to Federal overspending and this Administration's misguided belief that government can tax and spend its way out of a recession," Hudak said. "The President's continuing message that business is the enemy has stifled growth and forced businesses to hunker down, afraid to hire or invest. Obama's latest 'jobs' plan, which threatens employers with potential Civil Rights violations in their hiring practices, will only further stifle job growth, or drive more companies overseas," he concluded.
Hudak's plan involves three simple actions on the part of the federal government:
First, repeal Obamacare. "More than anything, this looming unconstitutional, unwanted mandate continues to threaten job creators who are uncertain what the future brings," said Hudak. "Removing this barrier would create confidence in the marketplace by assuring businesses once and for all that they will not be forced into to incur massive new expenditures from the law. Repeal would have the added benefit of immediately cutting $1.5 trillion in future government spending, in effect accomplishing the objective of the recently created bipartisan congressional budget committee, and eliminating the impending threat of cuts in national defense and Medicare," he said. "And, of course, no services would be 'cut' because this plan has not yet been implemented and no citizen would be deprived of any service."
Second, cut real government spending immediately, by 10%, reducing today's $3.8 trillion annual budget expense by least $380 billion in 2012. "This administration continues to try to fool the American people by claiming they are 'today' reducing spending 'over the next ten years.' Not only can today's Congress not be so committed, but in truth they are reducing the planned increase in spending over that period. Even after the recent debt ceiling compromise, this will still increase our national debt from $15 trillion to $21 trillion, which is not saving anything at all," Hudak said. "That's why Standard and Poor's downgraded our credit rating."
Hudak's proposal requires real cuts in 2012, not in the far distant future. "In 2008, before this Administration took office, essential services provided by the Federal government cost $2.9 trillion, and America managed to survive," Hudak said. "The $900 billion increase over only the past three years has done nothing to add jobs and in fact, has only made our economy worse," he remarked. "Taking immediate action with an actual 2012 budget of no more than $3.4 trillion, only $100 billion less than the 2010 budget, will send a strong message to businesses - and the rating agencies - that this government is finally getting serious." Hudak suggests the bipartisan budget committee can readily find $380 billion in savings by cutting waste and duplication.
Third, encourage voluntary repatriation of the more than $1 trillion dollars currently held overseas by U.S. businesses by exempting those funds from tax, and providing tax credits for reinvestment in the United States and the hiring of the unemployed. "Companies currently shield these funds overseas solely to avoid our onerous tax laws, which certainly doesn't help our economy. We should encourage U.S businesses working overseas to instead bring the money back home by removing the barriers this administration has created," Hudak suggests.
"Take the positive components of the President's plan to provide tax credits to businesses if they hire new employees, allow repatriation of overseas funds for that purpose and for new investment, and watch more than double the President's proposed $447 billion in stimulus spending flood into the country by the private sector eager for the opportunity," he concluded. "And this will create private sector, long-term sustainable jobs, not temporary make-work government positions, created at the expense of taxpayers."
Hudak believes that, despite the President's rhetoric, the American Jobs Act is yet another politically motivated tax and spend plan which will make the economy worse. "Why else is the President, so eager to have it passed right away without discussion, stumping in the key election battleground states of Ohio and North Carolina where he is suffering in the polls?" he asks.
"The proposed Act is truly a wolf in sheep's clothing; another federal government mandate and failed stimulus," he says. "The government will spend $447 billion, increase taxes to cover it, and by granting the unemployed Civil Rights status, effectively order businesses to hire the unemployed whether they like it or not," he claims.
Hudak, a civil rights litigator, warned that "lawyers will have a field day filing a lawsuit every time an unemployed person does not receive a job after application, claiming under the law that their Civil Rights have been violated, and punishing businesses with fines and attorney fees." Irrespective of the merits, businesses will suffer economic pressure to settle or defend potentially millions of meritless lawsuits. "This will stifle new hiring out of fear, or force companies overseas where such regulations and mandates don't exist. It's time to start moving forward with job growth, not reverse," Hudak concluded, "and the free market will do so if we get government out of the way."
Bill Hudak may be reached through his website, http://www.HudakforCongress.com, or his law office located in Saugus, Massachusetts.
ABOUT BILL HUDAK
Bill Hudak, http://www.hudakforcongress.com, candidate for U.S. Congress in the Massachusetts 6th Congressional District, is a practicing attorney with more than 27 years of experience. Licensed in Massachusetts, New York, North Carolina and Florida, as well as in multiple Federal District Courts and the United States Supreme Court, Bill's consumer advocacy efforts have earned him a reputation as a lawyer practicing with "truth, honor and integrity." A 25-year resident of the 6th Congressional District in Massachusetts, Bill is running for office to help restore this nation's prosperity and growth for our future generations. Click here to read more about Bill.
For more information about Bill and his campaign to bring common sense to the U.S. Congress, visit http://www.hudakforcongress.com and join us on YouTube, Facebook and Twitter.
###