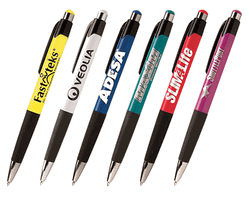 Before I started working in the printing department, I used to be a line cook, if it wasn't for that restaurant experience, with all that daily stress, I'd never be able last a day our our printing department, it's absolutely crazy!
Hollywood, FL (PRWEB) September 20, 2011
Vendo Direct, Inc., re-tools its factory for speed, and over 30 styles of personalized pens can now be custom printed within 24 hours of ordering. "In total we've got about 200 different promotional items that we can custom print superfast if a client is in trouble with a last minute order."
"When we got started in the pen advertising business, back in the late 1950's, almost every job function, from custom pen assembly to silkscreen printing was done by hand. A fast order in those days, might have taken a week or two for parts assembly, a week for printing and another week for shipping to occur. As automation progressed, so did our customer's demand for quickly printed products with a faster and faster turn-around time. 63 years later, we find ourselves printing about 80% of our orders with rush service," stated company spokesman Mr. Klein.
Klein continues, "One of the greatest strengths of our company has been the ability to change on a dime, we've embraced the change towards rush service and are now offering free rush printing on over 30 styles of personalized pens. In total we've got about 200 different promotional items that we can custom print superfast if a client is in trouble with a last minute order."
"Pens however, are really the bulk of the specialty advertising business. They represent about 30% of the whole industries sales, which equates to about 8 billion in annual sales of custom pens alone. This is the reason why we had to rearrange the whole shop, from receiving, to storage, to printing and shipping. The products get dropped off at the back door, two or three days later, they are custom printed and out the front door. Our supply chain management has been totally streamlined. In a fast past global world only the lean will survive."
He then displayed a pen, "This is our Fiesta Carnival Pen it is one of my favorites and a best-selling item. I like this pen for so many reasons, but most importantly it's an excellent product. This is one of those universally appealing products, if you write with this pen, you'll like it! They look good, they write great, they have a nice imprint area. You can even get them with your choice of a black ink cartridge or blue ink cartridge, which is almost unheard of. These days 90% of the pens are only available with a black ink cartridge only. This pen has the right look at the right price. At a low .29 cents per unit (orders of 1000 pens or more) our customers sure love them too, especially more so, now that we are offering free 24 Hour Rush Printing on them."
VendoDirect.com is a supplier of personalized pens and promotional items. Vendo Direct, has been printing pens in the USA since 1958, they offer both USA made and imported products, for more information, go to http://www.vendodirect.com.
###