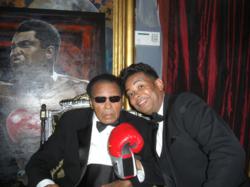 9/11/01 is a date that changed all of our lives
Hollywood, California (PRWEB) September 14, 2011
Raffles van Exel, President of Raffles Entertainment, attended the fourth annual Life Changing Lives - One Nation. One Heart event in Anaheim, California. The event took place on September 11, 2011. Raffles Entertainment client Quinton Aaron was also in attendance.
The gala honored the brave men, women and children who lost their lives on 9/11/01, and honored our nation's heroes who continue to inspire us all. Proceeds from the event benefited the Wounded Warrior Project, The Muhammad Ali Center, The Joe Foss Institute, Pretend City Children's Museum and Chapman University.
Celebrities in attendance were boxing champion and humanitarian Muhammad Ali, the highly decorated retired Air Force Major General William Lyon, successful entrepreneur Ambassador George Argyros, Lieutenant General William G. Boykin (ret), GRAMMY Award winning artist Robin Thicke, International platinum selling recording artists The Canadian Tenors and "American Idol" Season 9 winner Lee DeWyze. Emmy-Award winning host Roy Firestone served as emcee for the evening and guests dined on a gourmet four-course menu designed by celebrity chef Cat Cora.
"9/11/01 is a date that changed all of our lives. We became more compassionate toward one another, especially to our heroes - the servicemen and women that sacrificed so much to keep our society safe and free." States Raffles van Exel. "This charitable event honors the victims and the heroes of 9/11/01. It us up to us to provide financial and emotional support for our wounded warriors who sacrificed so much to keep our country safe. Also, It was great seeing all my friends, especially the legendary Muhammad Ali - the Greatest of All Time. It was such an honor to be in his presence."
About Raffles van Exel
Raffles van Exel, CEO of Raffles Entertainment, LLC, is a highly respected entertainment consultant having guided some of the world's most acclaimed executives and celebrities: Actor Quinton Aaron from the smash hit The Blind Side with Sandra Bullock, Peter Lamas CEO and founder of peterlamas.com, the Skin Diva Christine Heathman of GlyMed Plus, the late King of Pop Michael Jackson, Whitney Houston, Patti LaBelle, Lance Bass (Founding member of iconic pop group, N'Sync), Flavor Flav of the iconic rap group Public Enemy and of the "Flavor of Love" fame, George Benson, and the late Ray Charles. Raffles van Exel has produced for The Queen of Salsa - the late and great Celia Cruz, funk pioneer George Clinton, Sisqo, Nick Cannon, Howie Dorough (Founding member of Grammy nominated group, The Backstreet Boys), rap icon and actor Ice-T, and a host of other artists. For more information about Raffles van Exel and Raffles Entertainment, please contact pr(at)rafflesentertainment(dot)com.
###