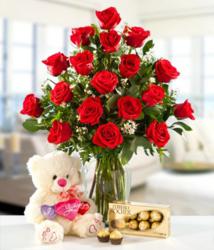 This is one of our favorite holidays here at daFlores
Miami, FL (PRWEB) September 15, 2011
Love and Friendship Day in Colombia is just around the corner. The holiday takes place on September 17, and is the Colombian equivalent of Valentine's Day – a celebration of romantic love, familial love, and friendship. International flower delivery company daFlores.com advises it's still not too late to order Love and Friendship Day flowers, but that it's better to order now rather than on Friday night.
"Love and Friendship Day falls on a Saturday this year," explains Francisco Bustos, CEO and President of daFlores, a United States corporation with strong ties to the Americas. "Weekends are often busy and, with the big holiday coming up in Colombia, this one will be busier. Customers should order now to avoid disappointment."
daFlores offers same-day delivery six days a week, but Love and Friendship Day stretches florists to their limits in much the same way that Valentine's Day does. While the florists order in extra red roses and flowers for their friendship bouquets, that's no substitute to knowing in advance what they'll need to complete orders. The earlier Love and Friendship Day orders are placed, the better chance flower shops in Colombia have of being able to bring in sufficient supplies.
"This is one of our favorite holidays here at daFlores," says Mr. Bustos. "It's one that fits all kinds of scenarios--couples both new and old, signs of appreciation between friends, and saying 'Hi' to Mom and Dad with a lovely bouquet. We take real pride in our work and in bringing happiness to our customers, but we also hope to get the message out that, while it's not yet too late, time is running out to order Love and Friendship Day flowers."
About daFlores International Flower Delivery Company
daFlores.com is a family-owned company, part of FloresaColombia, Inc., a United States corporation. Based in Miami, Florida, daFlores has its roots in the Americas but now also serves flower customers in parts of Asia and Europe. Every year, daFlores looks forward to Love and Friendship Day in Colombia, where its highly experienced florists can truly provide something for everyone. And, even on the busiest holidays, it brings in fresh flowers daily.
###