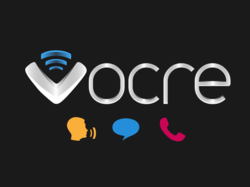 "We couldn't be more excited about the future. I'd like to personally thank Robert Scoble for evangelizing our app before we even launched it," said Andrew Lauder, founder and CEO of myLanguage.
San Francisco (PRWEB) September 15, 2011
Vocre, the new instant language translation app for iPhone, iPad and iPod touch, launched earlier this week at the highly-competitive TechCrunch Disrupt SF event and won Best Mobile App and Audience Choice Award categories.
Vocre enables its users to communicate with people from around the world regardless of the language. The app is very intuitive and mimics an interview-style behavior by speaking into the mobile device while the iPhone is vertical. When flipping the phone horizontally, the phone's accelerometer instantly cues the app to translate and magically speaks what you've said into the receiver's native language. The receiver can then respond in real time, breaking down all language barriers, whether it's negotiating a transcontinental business deal between Asia and North America, or simply asking a local for directions while on vacation.
Vocre is the latest product from myLanguage, which is the #2 free Travel app in the Apple app store boasting a user base in excess of 1.5 million users, and has regularly been featured as the premiere language translation solution on the Apple App store.
"We couldn't be more excited about the future and genuinely thank Robert Scoble for evangelizing our app before we even launched it," said Andrew Lauder, founder and CEO of myLanguage. "TechCrunch afforded us an amazing platform for launch, and we are grateful for that, intending to rapidly expand and improve upon our service based on the awesome feedback from the event's exuberant attendees who we must also thank for the Audience Choice Award. To further celebrate the victory and show our gratitude to the community, we are doubling the amount of translations to 20 for only $0.99. "
At launch, Vocre supports the following languages with many more on the near horizon:

English US/GB/AU
Spanish (Spain)
French (France)
Italian (Italy)
German (Germany)
Japanese (Japan)
Chinese (Mandarin/China)
Features present at launch include:

In Person Speech-to-Speech Conversation Translation via accelerometer/orientation activation.
Powered by crowd sourced translation suggestions. Simply shake the device to edit the translation, and it will be uploaded to the server.
The ability to purchase additional translation credits in-app, in addition to initial free credits.
Social media sharing of the app via Facebook, Twitter, SMS, and Email.
The Vocre App is available for free from the App Store on iPhone and iPod touch or at http://www.iTunes.com/AppStore.
About myLanguage, Inc.
myLanguage is the fastest-growing app-based language translation and learning community. With millions of downloads and more than 30 million unique translations provided to date, myLanguage is changing language translation and learning with applications that are fun, engaging and practical. Learn more about myLanguage Phrasebooks and myLanguage Translator at http://www.myLanguage.me
About TechCrunch Disrupt
TechCrunch Disrupt (http://disrupt.techcrunch.com), Sept 12-14 2011, at San Francisco Design Center Concourse, 635 8th Street (at Brannan), is TechCrunch's marquee conference in San Francisco attracting over 2,000 leading technology innovators and investors and over 150 new startups. TechCrunch (http://www.techcrunch.com) is a leading technology media network, dedicated to obsessively profiling and reviewing new Internet products and companies. Founded in 2005, TechCrunch and its network of websites reach over 8 million unique visitors and more than 25 million page views per month.
myLanguage is a registered trademark of myLanguage, Inc. myLanguage Phrasebooks, myLanguage Translator, the myLanguage logo are trademarks of myLanguage, Inc. Vocre is a trademark of myLanguage, Inc.
Apple, iPod, iPhone, iTunes and the Apple App store are trademarks or registered trademarks of Apple Corporation.
Contact:
Hal Bringman
NVPR
hal(at)nvpr(dot)com
o:323.851.6877
m:310.210.8011
Skype: halbringman
Twitter: @halbringman
http://www.nvpr.com
###