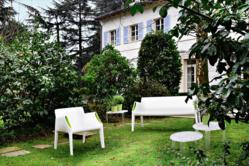 Sacramento, CA (PRWEB) September 15, 2011
Lumens.com has introduced the new Magic Hole Collection by Philippe Starck and Eugeni Quitllet for Kartell. Now available for purchase in the United States, the Magic Hole Armchair and Sofa are pieces distinguished by clean silhouettes, soft, curvy edges and the colored "pockets" in each arm—flared, hollow curves meant to function as a magazine holder or decorative element.
Designed by Philippe Starck in collaboration with Eugeni Quitllet, the Magic Hole pieces were created using a rotational moulding technique to create the streamlined profiles: straight surfaces ending in nicely rounded curves and slim sectional legs.
"With Magic Hole you can go fast to the ultimate dimension of your next nap in the garden," said Philippe Starck on the series, which was first showcased in Milan's furniture fair in 2010.
Light, shock resistant and weatherproof, the Kartell Magic Hole Collection is made for use in the garden, terrace or poolside, but is as suitable for indoors as it is out. The Armchair and Sofa are both available in several monochromatic or contrasting color options, with the pockets providing a pop of color to the black, white or gray chairs.
As one of the most renowned contemporary designers in the world, Philippe Starck has designed everything from contemporary lighting to flyswatters, motorbikes to mega-yachts. For more than three decades, Starck has been a part of daily lives by creating unconventional objects, whose purpose is to be "good" before being beautiful. His concept of "democratic design"—to increase the quality objects at lower prices—has allowed more people to bring modern design into their lifestyles.
Eugeni Quitllet, a young contemporary designer from Ibiza, has been collaborating with Philippe Starck since 2001, designing furniture and accessory pieces with the STARCK + QUITLLET signature.
Lumens offers the full collections from Kartell as well as many furniture, lighting and home products designed by Philippe Starck for Alessi, Flos, and others. In addition to this new collection, Lumens.com also offers:
-Low-price guarantee
-Expert service via our customer service center
-Easy, no-hassle returns
-Volume order discounts
-More than 300 manufacturers, from contemporary lighting to transitional fixtures and modern furnishings, gifts and home accessories.
For additional information on these products or Lumens.com, contact Sarah Schaale or visit lumens.com.
About Lumens Light + Living:
Lumens Light + Living is dedicated to offering the very best of design-oriented contemporary lighting, fans and home accessories, from the most contemporary international designs to modern interpretations of classic design. Visit us on Facebook and Twitter.
Contact:
Sarah Schaale, Assistant Marketing Manager
Lumens Light + Living
916-444-5885
http://www.lumens.com
# # #