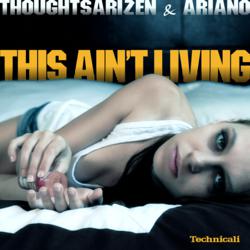 "It doesn't look any straight-ahead rap video and that's what I like about it," Ariano
Huntington Beach, California (PRWEB) September 16, 2011
Technicali Sound releases new music video for Thoughtsarizen & Ariano of Technicali "This Ain't Living," directed by Prime One Productions founder Rick Lee, as the first single off their upcoming album Love and Destruction, which contains features from many of underground hip-hops elite such as Akrobatik, Del, LD, and Rakaa just to name a few.
"In this day in age, the visual is the key. The quality and the message behind the video really stands out and reinforces the message of the song," says Thoughtsarizen. "Its something that people attune yet another sense to."
The song is also available on iTunes and is the first in a series of tracks to be put out in anticipation of an early 2012 release. Thoughtsarizen and Ariano comment the video acts as an invaluable catalyst in furthering their artistic profile leading up to their official album drop.
"It doesn't look like any straight-ahead rap video and that's what I like about it," says Ariano. "In the days of everybody throwing out music everyday on Facebook, it's kind of good to give it a chance and let people attach themselves to it early on, taking it back to the days of putting out singles."
Lee elaborates, "Prime One Productions and Technicali have worked together before, but we waited to do it again for the right opportunity. Where everyone is at in their career, it's the perfect time to take it to the next level."
Check out the video here:
Thoughtsarizen and Ariano - This Ain't Living
About Prime One Productions
Founded in 2007, Prime One Productions provides full-service high-definition video content development. We specialize in music videos, artist and athlete profiles, traditional and guerilla advertisements and documentaries.
Prime One Productions works with some of the most notable athletes, artists, brands and media outlets in the United States.
About Technicali Sound
Technicali Sound is an independent record label located in Southern California. Technicali sound has over 30 releases in the past 6 years with artist like LD, Ariano, LMNO, Charlie Tuna, 2Mex, DJ Rocky Rock, and others. Technicali sound continues to elevate and expand their brand with new music, videos, and artists.
Contact:
Rick Lee
Rick(at)PrimeOne(dot)TV
PrimeOne.TV
Twitter.com/RickJLee
Ariano Price
Arianomusic(at)gmail(dot)com
Technicali.com
Twitter.com/ArianoMusic
Max Haskvitz (Thoughtsarizen)
Thoughts(at)thoughtsone(dot)com
thoughtsone.com
facebook.com/thoughtsarizen
###