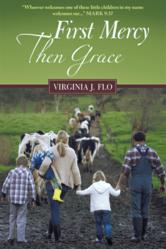 Eagan, Minn. (PRWEB) September 16, 2011
According to the U.S. Department of Health and Human Services, in 2009 there were 423,773 children in foster care. In First Mercy Then Grace (published by CrossBooks) author Virginia J. Flo tells a heartwarming story of Christian love for a young child in foster care.
First Mercy Then Grace is a story about a family who shares their Christian values with a young boy confused and disappointed with life. It is a touching story about how lives can be changed with Christian love given to those in need. Based on the principles of Mark 9:37, this book is a living example for the responsibility to tend to children – whether their own or others in need.
The story takes place in the 1950s on a farm in rural Minnesota just south of St. Paul, ideal for troubled children in need of a nurturing home. Apprehensive about taking on the foster parent role, yet eager to do so, the Schultz family soon finds that all they need is to be themselves and share their values and faith.
Ruth and Samuel Schultz have two young daughters but also lost several children through miscarriage. That has left a void in their lives they struggle to fill. With the encouragement of their pastor they agree to take in a foster child. Unaware of what this would mean, they are somewhat surprised when 10-year-old Billy Spencer arrives with some personal problems that come from years of rejection and disappointment.
First Mercy Then Grace shows how God's mercy can bring people from the depths of despair and through His grace find new hope and blessings.
"Children who find themselves in the welfare system are easily confused about the messages they get from adults who they see as caring more about themselves than the children," says Flo. "When placed in a loving, Christian home it is still difficult for them to make the transition as their defenses are up at all times. However, it is their best chance at adapting to this sometimes unsettling change in their young lives." Flo wants readers to see for themselves how Christian love can overcome almost any adversity.
About the Author
Virginia J. Flo grew up in a family that welcomed foster children who found a safe, temporary home with them in the country. With a career in business management she has also spent her life working as a choir director sharing her love of Christian music. She currently lives in Minnesota.
CrossBooks, a division of LifeWay Christian Resources of the Southern Baptist Convention, is a Christian publishing imprint committed to bringing more Christian voices into the publishing industry. Established authors, first-time authors, and authors anywhere in between can meet their goals and fulfill their vision for their books by publishing with CrossBooks. CrossBooks' innovative style of publishing blends the best of traditional and self-publishing. While our authors contribute monetarily to cover the cost of publishing, we maintain a strict moral and quality standard that every manuscript must meet for us to publish. For more information on publishing your Christian book with CrossBooks, log on to crossbooks.com or call 1-866-879-0502.
###