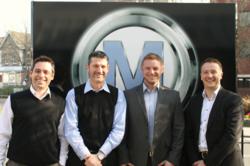 our level of service and commitment to our clients is the best in the area, and paramount to our success.
(PRWEB UK) 17 September 2011
Take 4 experts in the recruitment industry, find a window of opportunity, sprinkle a big helping of dedication, hard work and customer commitment, and you can cook up one of the most successful recruitment consultants in Dorset. This recipe for success is proven as Mploy Staffing Solutions celebrate their 10th year in 2011.
For owners, Daniel Keogh, Mark Nash, Evan Bebb and Matt Swift, having all worked in the recruitment industry for some years, prior, the window of opportunity was offering a service more beneficial to temporaries and clients than was currently available from the competition. The sector they supply is mainly industrial; manufacturing, warehouse and distribution companies, within industries such as luxury boat building, engineering, horticulture, agriculture and food manufacturing all across Dorset and Hampshire. Many of these industries, affected by the economic climate, need the flexibility of temporary or contract workers, and with the ability to fulfil this need through a significant level of top end temporaries on their books, Mploy have thrived.
10 years on, their temporary placements exceed 800 per week from 3 branches across the South, and turnover for 2011 will reach £13 million.
Each of the Directors work hands on with all their clients and all Mploy's Consultants are Directors of the Company, so the dedication and commitment permeates throughout the organisation. Co-owner Daniel Keogh says: "our level of service and commitment to our clients is the best in the area, and paramount to our success. By making all consultants Directors, and creating an organisation that our staff enjoys working at, we have a very low staff turnover rate, uncommon in recruitment! This means that our clients and our contractors can build up a good relationship with our team and don't have to keep meeting new people every year. He added: " We have very strong relationships with our clients, built up over many years of consistent high level service and we believe it is these levels of service that keep our clients loyal to Mploy in a very competitive environment."
So much is the level of confidence in Mploy, many of their clients have agreed to long-term master vendor or preferred supply contracts, showing a significant level of commitment to the company. They have even been awarded a Gold Standard Award by leading global luxury boat manufacturer Sunseeker, for 'Exceptional Service'.
As 'old hands' within the industry, Mploy have seen many changes over the last 10 years, the most significant shift being driven by the climate of today's economy. With costs being driven down, Mploy have worked hard to ensure customer service and quality contracts don't suffer. And legislative changes regarding employment issues, minimum wage and holiday pay increases, in relation to agency workers1 have all had an impact on the shift of the industry, and fortunately, the growth of the company. Keogh says 'in the early days our main issues were just getting business in and trying to pay our bills. Now, with costs being driven down, obtaining credit on companies being more difficult as financial institutions become risk adverse, and these significant legislation changes, this is probably the most important, yet difficult time that recruitment agencies have faced. But at Mploy, we embrace these challenges, our team are passionate and dedicated, and our results are visible. We are forging ahead and looking forward to exciting times. Here's to our next 10 years!"
And in recognition of their 10-year anniversary and to support 2 cancer charities, following the diagnosis of Director Dan's wife Lou, and colleague Daren with breast and oesophagus cancer respectively, a team of Mploy staff and friends are undertaking a brave Skydiving Challenge on 29th September 2011. Already they have raised over £7,000. To donate, please visit http://www.justgiving.com/teams/mployandfriends/
Notes
1. The Agency Workers Regulations 2010
Due to come into force on 1st October 2011, the purpose of the Directive is to provide temporary agency workers with equal rights in terms of basic working and employment conditions as if they had been employed directly to do the same job.
2. Mploy Staffing Solutions has 3 branches across the South, employing over 19 staff and placing over 800 temporary staff per week. Offices are based in Poole, Christchurch and Dorchester.
For further information, please contact: Zoe Keech tel: 07772 533275 or email zoemarie(at)talktalk(dot)net.
###