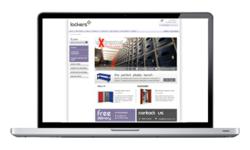 (PRWEB) September 19, 2011
Storage equipment specialist Action Storage® first started selling lockers in the 1990's and it has seen demand for its' range grow. It now supplies an extensive selection of steel, plastic, wire and aluminium lockers to organisations throughout the World. With over 1200 different locker configurations to choose from, Action Storage has now launched a new website, http://www.lockers-plus.co.uk which is dedicated to its' locker range. This site is a 'one-stop' shop for all locker requirements, and will be easy for customers to find the style and type of locker they need.
For over 25 years Action Storage has been supplying lockers to hospitals, offices, factories, leisure centres, retail stores and all manner of organisations requiring secure, durable storage.
In particular, it has a long history of working with the education sector, having supplied over 800 schools, colleges and universities with student lockers.
In view of its long standing relationship with schools, Action Storage currently offers a locker rental scheme through which parents can hire a locker for their child. Action Storage will deliver and install the lockers as well as perform ongoing maintenance to keep them clean and trouble free throughout the school year.
Action Storage's extensive locker range includes wire mesh lockers for work wear, small personal effects lockers, cube lockers and heavy duty lockers with Trespa doors. One exceptional product is the unique eXtreme Plastic Locker®, which it manufactures in-house. These are made from hardwearing polyethylene plastic, enabling them to be stacked outdoors under cover without fear of rust or deterioration in the weather. This makes them ideal for use with cycle shelters, for use in wet areas, such as swimming pools, and harsh environments, like oil rigs,¸and to save indoor corridor space.
Another popular locker in Action Storage's range is the Atlas Locker®. This steel multi-purpose locker is a popular choice for schools because of its durable design and budget price. Atlas Lockers® are also manufactured by Action Storage and can be supplied from stock at short notice from Action Storage's Milton Keynes based warehouse.
Along with its innovative product range, Action Storage provides customers with additional services so they can benefit from its 25 years of expertise in storage systems. To assist customers to maximise their storage areas, Action Storage provides a free survey and design service. This involves Action Storage visiting a customer's premises to assess the available space, before providing CAD drawings on the best configuration. Action Storage's in-house installation team will then ensure the lockers are installed safely and securely.
Further information on Action Storage's extensive locker range can be found on its new dedicated website, http://www.lockers-plus.co.uk
For service enquiries contact:
Website: http://www.action-storage.co.uk
Email: sales(at)action-storage.co.uk
Tel UK: 0800 592215
Outside UK: +44 (0)1908 525700
Fax: +44 (0)1908 321650
Action Storage
6 Fitzhamon Court
Wolverton Mill South
Milton Keynes
Bucks
MK12 6LB
###