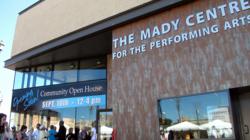 "I can't wait until you get to go inside," said Strachan, "the architecture is amazing."
Barrie, Ontario (PRWEB) September 19, 2011
Barrie architects Salter Pilon Architecture along with Lett Architects of Peterborough are pleased to announce the grand opening and community open house for the Mady Centre for the Performing Arts (aka the Downtown Community Theatre) took place on Saturday September 10th. There was a large public turnout for the event including MP Patrick Brown, Mayor Jeff Lehman and City Councillor Lynn Strachan.
"I can't wait until you get to go inside," said Strachan. "The architecture is amazing."
Mayor Jeff Lehman admitted that it had been a long process but that "great projects are often not easy." "To the architects and others involved in the construction, it's remarkable," said Mayor Lehman, "We have something very special, something to be proud of. " Unlike other cities, the City of Barrie's plan recommended a small venue to showcase the City's homegrown talent.
The 10,000 square foot, 200-seat theatre was developed on the southwest corner of Barrie's historic five points intersection after the old Scotia Bank building was demolished. The multi-level lobby, which faces onto the five points, was designed as an open inviting space allowing passersby to view into the $6 million theatre.
The actual theatre space was designed with flexibility in mind and is able to be reconfigured into a variety of stage arrangements (end stage, thrust stage, open flat floor) to accommodate various types and sizes of performances. The automated riser/seating system allows the seating to vary between a 120- and 200-seat layout. Complimenting this flexibility is a full catwalk grid system as well as a technical booth that can handle any type of performance.
"This is the one that is going to be a game changer for our downtown," said Mayor Jeff Lehman, "It's going to be another jewel in the crown of our city, our waterfront and our downtown."
Salter Pilon Architecture has created and posted a short video highlighting the unique interior design and architectural features incorporated into the new building.
About Salter Pilon Architecture Inc.
Salter Pilon Architecture is a mid-sized Ontario architectural firm whose roots extend back to 1960. The majority of the firm's work over that lengthy history has been in the institutional field with healthcare and educational buildings as the predominant components. Salter Pilon offers complete sustainable architecture and interior design services through an exceptional staff of 25 people with an average staff tenure in excess of 16 years. They are designers who value a well-crafted building and are prepared to take the time to achieve that craft.
# # #