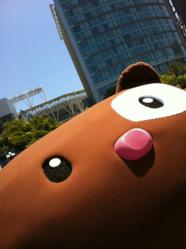 At Xtranormal we are democratizing the tools for video production and enabling journalists to animate their story by simply typing text and dragging icons.
San Francisco, CA (PRWEB) September 15, 2011
Xtranormal™, the revolutionary online approach to movie making, has announced that CEO Graham Sharp will be a featured speaker at TEDxPoynterInstitute: The Future of Journalism. On October 28, Sharp will join fellow social media thought leaders including Robin Sloan, Media Partnerships Manager at Twitter; Rachel Sklar, Editor-at-Large for Mediate.com; Jesse Thorn, Creator of The Sound of Young America podcast, among others, to explore the ever-evolving vehicles of journalism, giving a personal glimpse into what the future may hold. Created in the spirit of "ideas worth spreading," the TEDx program is designed to give communities, organizations and individuals the opportunity to stimulate dialog through TED-like experiences and events at a local level. As an independently organized TED event, TEDxPoynterInstitute's intimate setting will spark deep discussion and connection among its attendees, which include journalists, bloggers, social media strategists, and entrepreneurs.
"Journalism is now on-line and everywhere, but in this fast paced world it is not just about the quality of the words, it is about how a story is presented and the engagement with the consumer; today this means video. At Xtranormal, we are democratizing the tools for video production and enabling journalists to animate their story by simply typing text and dragging icons," says Sharp. "I was over the moon to be asked to speak at this event, as TED is one of the most respected forums in the world. I hope I can bring some new ideas as to how journalists can rise above the congestion of the digital age."
"Graham is a great fit for our TEDx event, because like our other speakers, he is a visionary in this field. With 25 years of experience under his belt, which includes his current position as CEO of Xtranormal, Graham has truly helped shape the way that people and businesses are communicating. His feedback is extremely valuable to our attendees, and we are looking forward to hearing his thoughts on how journalists can embrace technology to really elevate themselves above the rest," says Ellyn Angelotti, Faculty, Digital Trends and Social Media, Poynter Institute.
TEDxPoynterInstitute: The Future of Journalism will take place on October 28, 2011. All talks will be live-streamed and recorded, and a "Tweetup" will follow the event via @tedxpoynter. For more information, please visit http://about.poynter.org/training/in-person/tedx-11 or https://www.facebook.com/event.php?eid=138677466205348 on Facebook.
About Graham Sharp
Graham has 25 years Executive Management experience in the Media industry, working with such Companies as Newstar, Basys and Avid, he has been involved in creating tools for journalists most of his career. He is currently President and CEO of Xtranormal, an innovative text to movie web site.
Check out his Linkedin bio for more details: http://www.linkedin.com/pub/graham-sharp/7/509/137
About Xtranormal
Xtranormal brings movie-making magic to the masses. Their motto, "if you can type, you can make movies," inspires creativity and transcends generations - from a 4th grade student completing a video project, to a teacher making a class more engaging and an advertising firm creating a private label for a B2B client; Xtranormal's contagious technology has made it a viral sensation with millions of users inspired to make movies through the simple act of typing. To learn more, visit http://www.xtranormal.com, Twitter, Facebook, or YouTube.
# # #