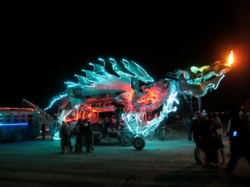 New York, NY (PRWEB) September 15, 2011
Internationally acclaimed, Hong Kong based LED artist Teddy Lo will display his "art car" dragon, GonKiRin, at this year's World Maker Faire (Sept 17th and 18th) at the New York Hall of Science in Flushing Meadows Corona Park, Queens. GonKiRin was originally created as a "Mutant Vehicle" for the 2010 Burning Man.
GonKiRin, which means "Light Dragon" in Mandarin, was constructed using metal and LED fixtures and is built onto the frame of a 1963 Dodge W-300 Power Dump Truck with a 318 engine. Since making its debut at Burning Man 2010, GonKiRin has also been displayed at events including the Rapture Party at the Russell Industrial Center in Detroit as well as Maker Faire Detroit event. This fall, GonKiRin will be featured in New York City's Halloween Parade.
At 69 feet long, 22 feet tall, and weighing 8 tons, GonKiRin, which is hard to miss in the daylight, is impossible to ignore at night. GonKiRin is equipped with almost 2,500 feet of linear RGB LED lighting fixtures and a massive flamethrower in its mouth, creating a spectacular light show. With the built-in second story DJ booth, GonKiRin is the ultimate party on wheels. Riders have two levels of climbing space to roam around with the option to sit in the dragon's mouth or on a couch on its back where they have the controls to move its tail back and forth.
Teddy Lo's LED artworks have been displayed internationally at museums, festivals and galleries. He is in New York City through Sunday, September 18 and is available for interviews.
###