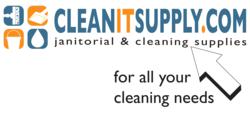 Philadelphia, PA (PRWEB) September 16, 2011
CleanItSupply.com, one of the leaders in online cleaning and janitorial supply distribution, has announced a new addition to their expansive green cleaning products division this week. The online cleaning supply superstore has unveiled their new line of Knuckle Buster microfiber cleaning products. Providing durability and improved cleaning, as well as a cost effective alternative that supports green cleaning programs; the Knuckle Buster line of wholesale microfiber towels are certain to make a quick impact within the online janitorial supply industry.
The Knuckle Buster term, and subsequently the concept and design, comes from professional boxing lore. The often told story is of an established boxer who could knock his opponent out with a single punch. As his legend grew, headlines in newspapers across the world would run stories about his "Knuckle Buster Nights." In the same way this legendary fighter took out his opponents with a single strike, so can the microfiber towels of the same name.
These new microfiber towels are available at CleanItSupply.com and offer excellent cleaning and dusting capability. Able to be used in both wet and dry conditions, these quality cloths are made of 80% polyester and 20% polyamide. This superior 80/20 blend is the key reason why this brand of microfiber towels can so easily collect and trap dust and dirt, not just push it around. Able to penetrate small irregular surfaces to lift out dirt and grime, the Knuckle Buster microfiber cleaning towels provide an easy to use, light-weight towel construction that offers superior durability. Fully machine washable, the Knuckle Buster microfiber towel is able to be washed and reused up to 500 times, drastically increasing its value. These easy to use, lightweight, and highly dust absorbent towels, provide a lint free, scratch free, and streak free cleaning experience. The ideal choice for any green cleaning program, these microfiber cleaning cloths decisively reduces chemical and water usage, as well as improving indoor air quality. Available in blue, red, green and yellow, this color coded system was implemented to reduce cross contamination in hospital settings. Measuring in at a full 16" x 16", these microfiber cleaning cloths are considerably larger then competitors.
Through this new venture, CleanItSupply.com is now the foremost supplier of Knuckle Buster wholesale microfiber cleaning cloths and product line via its e-commerce based cleaning and janitorial supply website. The brand, which comes in a variety of towels, mitts, duster wands, sleeves, flat mops, dust mops, and wet mops, are all available for purchase on the CleanItSupply.com website. Due to its easy-to-use handling, light-weight design, and versatility, the Knuckle Buster brand microfiber cleaning products fit perfectly into most cleaning environments and industries. Environments such as food service, hospitals, auto shops, car detailing companies, and retail stores, in addition to all residential and commercial applications, all benefit from this new technology product line.
Located right outside of Philadelphia, PA, CleanItSupply.com has developed a reputation as one of the foremost authorities for cleaning supplies and janitorial products online. Changing the dynamic of conventional cleaning supply stores, CleanItSupply.com pioneered a change within the wholesale supply industry. As they are the first online organization to offer a no minimum order ideology for wholesale cleaning products.
Due to that progressive mindset, teaming with the forward-thinking microfiber based Knuckle Buster division of ACA Enterprises is a perfect fit. Quickly becoming the industry standard in the healthcare, janitorial, and industrial cleaning markets, the Knuckle Buster brand offers a combination of high quality materials and cleaning performance that cannot be matched.
The new partnership has already seen marked improvements for both companies, one that is sure to continue to grow as CleanItSupply.com furthers it marketing efforts by offering the Knuckle Buster brand to customers at wholesale prices.
# # #