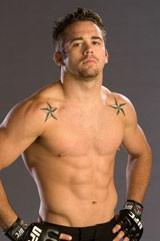 "We expect a great fight and are proud to show Jamie our support."
Atlanta, GA (PRWEB) September 20, 2011
RockHard Laboratories is proud to announce their sponsorship of former World Extreme Cagefighting (WEC) Champion Jaime Varner in his September 23rd fight against Alonzo Martinez.
Varner (17-5-1) is headlining the event, which will take place in the historic Memorial Hall in Kansas City, Kansas and will be broadcast live on HDNet.
Varner, a former UFC fighter, has an impressive resume that includes notable wins over "Razor" Rob McCullough, "Cowboy" Donald Cerrone, and fellow UFC veteran Kyle Bradley in addition to his WEC lightweight title.
Originally from Phoenix, Arizona, Varner recently moved across the country to train with AMA Fight Club in New Jersey after a nearly six-month hiatus. The new club seems to be a good fit, as he won his first fight back in the cage this May defeating dangerous striker Tyler Combs at XFO 30.
With his career on the up-swing, he hopes to put an end to Martinez' four-game winning streak and re-establish himself as one of the country's top fighters.
"RockHard customers love MMA, so we're always looking for opportunities to sponsor great athletes and contribute to the sport," says Joshua Maurice, president of RockHard Laboratories. "We expect a great fight and are proud to show Jamie our support."
###