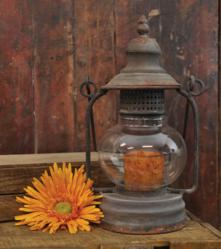 They are definitely the up and coming big item in home decor right now.
Appleton, Wisconsin (PRWEB) September 29, 2011
Days are getting shorter, nights are getting cooler, and leaves will soon be gold and red and ready to rake. Fall is just around the corner, and Country Village Shoppe is ready to celebrate by offering tips on what country-style decorations are going to be hot this fall.
Here are three decorations that can make this autumn a memorable one:
Rustic. Timeless. Charming. Lanterns can accent each of the upcoming fall and winter holidays. "We are really starting to see a big upswing with lanterns," says Gina O'Brien, Country Village's co-owner. "They are so easy to change out for the holidays, so they are definitely the up and coming big item in home decor right now."
Country timer candles pair well with the lanterns, and add a welcome glow to the season (without having to be re-lit each night). The candles can run for five or six hours each evening when they'd be seen the most, and then turn themselves off. No hassle. No stress. Dazzling light throughout the holiday season. "They're perfect for those hard-to-reach areas," O'Brien says. "Who doesn't need a little light in their home? These are also a great way to save money you would ordinarily spend on buying lots of candles!"
Fall and Halloween Sleeves
From jolly jack-o'-lanterns to friendly ghosts to harvest blessings, the fall and Halloween sleeves highlight the fun and festive spirit of the season. These sleeves are an easy way to keep your decorations fun and simple, yet versatile for all holiday seasons.
ABOUT COUNTRY VILLAGE SHOPPE: Since opening in Appleton in 2006, the mother/daughter-owned shop has been devoted to providing the best, most unique, most memorable selection of country decor and accessories. It's upscale, yet trendy country decorations evoke nostalgia for simpler times, while allowing families to relax and enjoy the joys of each passing season.
###