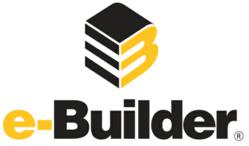 Our team appreciates the ability to have high-level summaries or detailed snapshots of our entire project portfolio in real time
Ft. Lauderdale, FL (PRWEB) September 16, 2011
e-Builder, the number one provider of project management software to healthcare owners, announced today that Hammes Company, a leader in the planning and development of healthcare facilities, will leverage capital project management software from e-Builder to enhance their program management services. Hammes Company will use e-Builder to expand existing cost management, document controls, workflow automation, and reporting capabilities. e-Builder; 1) provided an easy-to-use, yet feature-rich solution that met Hammes Company's objectives, 2) integrated well with the company's existing data and electronic reporting systems, 3) is very much an owner-centric solution, and 4) Hammes Company believes that e-Builder is one of the best systems today for clients to incorporate into their day-to-day operations. This was a very important criteria in the company's review of software options.
Hammes Company was searching for an integrated and easy-to-configure project management system to enhance its current project management capabilities. Their healthcare facility development group is highly mobile. It was essential to have a system that it's project management professionals across the country could access while working at a client's site and while working collaboratively with other team members. The company's system objectives included the desire to better integrate budget management, workflow automation, and document controls. Non-e-Builder users can also review information on an as-needed basis without having to log in to the software, helping the Hammes Company team improve real time project success.
"Our team appreciates the ability to have high-level summaries or detailed snapshots of our entire project portfolio in real time" said Richard Galling, Hammes Company President & COO. "This capability helps us to more effectively monitor and report on the programs we manage on behalf of hospitals and health systems across the US as well as internationally."
Rick Stoudt, Senior Vice President of their healthcare facility development group says, "the reporting engine is helping us meet client needs without a lot of manipulation. We can share information with clients in real time using easy-to-configure reports, or export to Excel and/or PDF". In addition to integrated reporting capabilities, e-Builder's workflow automation module permits a complete electronic audit trail. The company's project management professionals like e-Builder's capability to quickly track and prioritize tasks and issues. "e-Builder helps our professionals remain focused on the right items throughout the entire facility development process," added Stoudt.
About Hammes Company
Hammes Company is a single source of market-based and financially sound healthcare solutions. The full-service consulting firm is at the forefront of providing strategic planning, facility development, project management and implementation, and real estate acquisition and advisory services to hospitals, healthcare systems, and major physician groups. The company has been ranked as one of the nation's top developers of healthcare facilities for 12 consecutive years by Modern Healthcare magazine. Hammes Company is headquartered in Brookfield, Wis. and provides services through a network of regional offices strategically located across the country. For more information, please visit http://www.hammesco.com.
About e-Builder
e-Builder is the leading provider of integrated capital program management software and construction management software for top facility owners and the companies that act on their behalf. The company's flagship product, e-Builder Enterprise, improves capital project execution, resulting in increased productivity and quality, reduced cost, and faster project delivery. Since 1995, e-Builder's technology leadership and construction industry focus has provided thousands of global companies, government agencies, and healthcare and educational institutions managing billions of dollars in capital programs with solutions to improve the plan, build, and operate lifecycle. The company is privately held and headquartered in Fort Lauderdale, Florida. For more information, visit http://www.e-Builder.net.
###