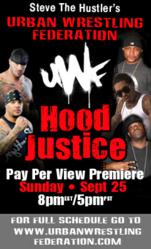 The Urban Wrestling Federation, is a dynamic and exhilarating performance collaboration between the worlds of hip-hop music and professional wrestling.
New York, NY (PRWEB) September 15, 2011
The Urban Wrestling Federation, which drew swarms of controversy from the entertainment industry and chaos on the streets with the debut battle "First Blood," today announced the schedule for the airing of "Hood Justice," to premiere nationwide on all major pay-per-view platforms on September 25th 8pm PDT, 5pm PDT.
Promising to make the brutal antics of "First Blood" look tame, the Urban Wrestling Federation will be trumping their own benchmarks set by the debut event, which included shanks, chains and even gunfire.
Joining the crew of rappers for the second coming are the ballers from the 'Carol City Cartel,' aka Triple C's, who record under the Maybach Music imprint and other newcomers including Chicago's guardian of the hood, L.E.P. Bogus Boys. Returning to settle the feuds, and seeking "Hood Justice," are 40 Glocc, Melle Mel, Uncle Murda, Brisco, Billy Blue, Big Block, Cuban Link and more. 'No-joke' wrestlers include Rich Ortiz, Homicide, Eddie Kingston, Bestia, Ruckus, Murder 1, The SAT and the Ghetto Mafia.
According to UWF Boss, CEO Steve 'The Hustler' Karel, the thousands of fans who tuned-in to order 'First Blood,' have ensured that the federation is here to stay and will be proceeding with production across the nation over the coming months. The UWF November offering 'Street King' is scheduled to premiere nationally on Sunday November 6th at 8pm EST, 5pm PST.
URBAN WRESTLING FEDERATION
The Urban Wrestling Federation, is a dynamic and exhilarating performance collaboration between the worlds of hip-hop music and professional wrestling. Created by television and live events veteran, Steve Karel, the UWF premiered in the summer of 2011 with "First Blood," which was filmed at New York's Hammerstein Ballroom and locations across the country. Full schedules, additional content, branded clothing and products can be seen at http://www.urbanwrestlingfederation.com/
The Pay-Per-View schedule for iNDEMAND, DIRECTV, DISH Network and
Avail-TVN ENT is as follows:
iNDEMAND
Debut: September 25th -- 8:00pm & 11:00pm iN1
September 25th – 8:00pm & 11:00pm HDPV
9/26//11 3:00pm iN1
9/26/11 6:00pm iN3 9/26/11 6:00am HDPV
9/28/11 9:00pm iN3 9/28/11 3:00am HDPV
9/28/11 6:00am HDPV
9/29/11 9:00pm iN3
9/29/11 9:00pm HDPV
9/30/11 7:00am HDPV
9/30/11 1:00pm iN3
10/1/11 8:00am iN3
10/1/11 8:00pm iN3
10/5/11 10:00pm iN3
10/6/11 7:00am HDPV
10/7/11 6:00pm HDPV
10/7/11 1:00am iN1
10/8/11 12:00pm iN3
10/8/11 4:00pm iN1
10/9/11 9:00pm iN3
10/11/11 9:00am HDPV
10/11/11 6:00pm iN3
10/12/11 12:00pm HDPV
10/12/11 9:00pm iN1
10/13/11 8:00Pm HDPV
10/14/11 11:00pm iN3
10/15/11 10:00am HDPV
10/15/11 12:00pm iN3
10/16/11 7:00am iN1
10/17/11 11:00am iN3
10/18/11 1:00am HDPV
10/19/11 5:00pm iN3
10/19/11 8:00pm iN1
10/20/11 10:00pm iN1
10/22/11 8:00am HDPV
10/22/11 1:00pm iN1
10/22/11 3:00pm HDPV
10/22/11 9:00pm HDPV
10/25/11 7:00pm HDPV
10/25/11 9:00pm iN1
10/26/11 5:00pm HDPV
10/27/11 12:00am HDPV
10/28/11 10:00am iN3
10/28/11 8:00pm iN1
10/28/11 9:00pm HDPV
10/29/11 11:00am HDPV
10/29/11 2:00pm iN1
10/30/11 9:00am iN1
10/30/11 11:00pm iN3
10/31/11 3:00pm iN3
10/31/11 4:00pm HDPV
DIRECTV
Debut: September 25th -- 8:00pm
All-day 24-hour Encore Ticket:
9/29/11
10/6/11
10/11/11
10/15/11
10/17/11
10/25/11
10/27/11
DISH Network
All-day 24-hour Encore Ticket:
9/25/11 Premiere (1)
9/27/11 Encore 1 (1)
9/29/11 Encore 2 (1)
10/02/11 Encore 3 (1)
Avail-TVN Ent
Debut: September 25th -- 10:00pm
9/26/11 1:00am
9/27/11 14:30am
9/28/11 9:00am
9/28/11 8:00pm
9/29/11 2:00am
9/29/11 7:00am
9/30/11 10:00am
9/30/11 4:00pm
10/02/11 4:00am
10/02/11 3:30pm
10/03/11 5:00am
10/05/11 7:00am
10/06/11 7:30am
10/07/11 5:00am
10/08/11 11:30pm
10/09/11 12:00pm
10/11/11 7:00am
10/13/11 9:00am
10/13/11 8:00pm
10/14/11 12:00am
10/15/11 7:00am
10/19/11 9:00am
10/21/11 7:00am
10/21/11 7:00pm
10/22/11 6:00am
10/23/11 3:00am
10/23/11 10:00am
10/26/11 4:30pm
10/27/11 8:00am
10/29/11 12:00am
7/29/11 9:00am
10/30/11 5:00am
###