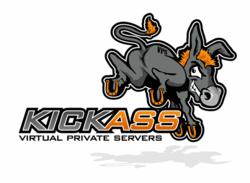 "SmarterTools has provided KickAssVPS.com clients with the industry's best productivity software for more than two years"
St. Paul, Minnesota (PRWEB) September 19, 2011
KickAssVPS.com, a leader in Linux and Microsoft Windows Virtual Private Server hosting, announced today it will continue its partnership with SmarterTools, which allows it to offer its clients access cutting-edge productivity software at no additional charge.
Through the partnership, KickAssVPS customers receive access to SmarterMail, SmarterStats, and SmarterTrack at no cost to them. The automation and productivity software enables small to medium sized businesses operate more efficiently. KickAssVPS customers can receive their licenses to the software via their customer control panel.
SmarterMail is a cost-effective Microsoft Exchange alternative, bringing enterprise-level functionality to businesses, ISPs, and Web hosting environments. Features include a rich Webmail interface, file storage, detailed reporting, events/notifications, throttling, email archiving, intrusion detection/prevention, advanced synchronization, out-of-the-box antispam and antivirus and optional add-ons for Exchange ActiveSync, Commtouch Premium Antispam, and Commtouch Zero-hour Antivirus.
SmarterStats is comprehensive Web log analytics and SEO software that cost-effectively delivers relevant, accurate, and detailed website statistics to help businesses increase conversions and maximize ROI.
SmarterTrack is a powerful help desk application built for tracking, managing, and reporting on customer service and communications, including sales and support issues. Features include a ticket system, live chat, call logs, time logs, Who's On, branding and language support, cost analysis, data mining, reporting, surveys, a task management system, and a knowledge base.
"SmarterTools has provided our clients with the industry's best productivity software for more than two years. This software helps our customers succeed online, and when our customers thrive, we thrive. It's a meaningful investment for us to make," said Brian Emerson, president and CTO, KickAssVPS.com.
Earlier this month, KickAssVPS.com launched Cloud Virtual Private Servers, offering more than 30 operating system templates, hot failover protection, and nearly instant scalability. In fact, in the event of a hardware outage or other service disruption, the Cloud infrastructure can automatically heal itself by utilizing other available computing resources in real-time. Cloud Virtual Private Servers start at just $19 per month on a Linux-based platform, and $39 per month on Windows-based platform.
To learn more about KickAssVPS, please visit http://www.kickassvps.com.
To learn more about SmarterTools, please visit http://www.smartertools.com.
About KickAssVPS.com
A division of Point North Networks, Inc. KickAssVPS.com is one of the largest providers of Virtual Private Servers in the Midwest. KickAssVPS.com is Certified Microsoft Hosting Partner and Parallels Gold Partner, with a fully Microsoft Certified customer support team. The goal of KickAssVPS.com is to provide high-quality, reliable networking services and top-notch customer service to all customers at a reasonable cost.
###