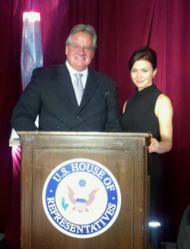 "The PRISM Awards recognize the power of the creative community to promote change, compassion, and understanding," stated Brian Dyak, President & CEO of EIC.
Washington, DC (PRWEB) September 15, 2011
As part of National Recovery Month, "Private Practice" star Caterina Scorsone, entertainment executives, elected officials and leading national figures gathered tonight at the Rayburn House Building to preview highlights from the 15th Annual PRISM Awards Showcase television special presented by the Entertainment Industries Council, Inc. (EIC). News Corporation, FX Network, and LUNGevity Foundation joined with EIC in presenting the event dubbed the PRISM Awards Capitol Hill Showcase. Congresswoman Mary Bono Mack, vice chair of the Addiction, Treatment and Recovery Congressional Caucus, served as congressional host for the event.
The FX Network will air the PRISM television special along with twelve additional cable networks in a national simulcast on September 25th. The special will have additional airings and will also be available to viewers on demand following the telecast. (See below for complete airing schedule.) The show is hosted by "Entertainment Tonight" co-host and preeminent entertainment reporter Nancy O'Dell.
Tonight's event featured guests from both Hollywood and Washington. Actress Caterina Scorsone of ABC's "Private Practice" was in attendance as a representative of the Entertainment Industries Council. She spoke regarding her character Amelia Shepherd's relapse into alcoholism at the end of last season and introduced highlights from this year's PRISM Awards Showcase television special.
"Addiction and recovery are subjects that are often gravely misunderstood," said Scorsone. "My character is a beautiful human being who is also struggling with addiction. In the spirit of the EIC and the PRISM awards, I hope that through this role I can contribute even a little toward providing accurate information about addiction and mental health. By telling these familiar stories on screen, the stigma often associated with these topics will eventually give way to a deeper, more compassionate understanding of the complicated nature of addiction. This deepening of understanding can bring healing to both the persons suffering from addiction and mental health issues and those that love and care for them."
"The PRISM Awards recognize the power of the creative community to promote change, compassion, and understanding," stated Brian Dyak, President & CEO of EIC. "We're proud to honor National Recovery Month with a tribute to productions and performances that help to humanize those who struggle with recovery and celebrate their successes."
Other featured speakers at the 15th Annual PRISM Awards Capitol Hill Showcase included Dyak; Congressional Representatives Brad Sherman (chair of the Congressional Entertainment Caucus), Ed Whitfield, and John Conyers; White House Office of National Drug Control Policy deputy director of demand reduction David Mineta; Center for Substance Abuse Treatment associate director of consumer affairs Ivette A. Torres; and LUNGevity Foundation president Andrea Ferris.
The PRISM Awards, presented by EIC in collaboration with FX Network and the Substance Abuse and Mental Health Services Administration, recognize members of the creative community for their commitment to creatively and accurately portray substance abuse and mental health issues to the public in a way only the entertainment industry can. This commitment can be observed throughout television, movies, music, comic books, and interactive entertainment. Other participating airing partners for the PRISM Awards Showcase are ION Life, mtvU, National Geographic Channel, REELZCHANNEL, Retirement Living TV, Time Warner Cable, and TV Guide Network. The show is also available through Video On Demand on E!, MTV and TV Guide Network and via web streaming on Bravotv.com, MTV.com and TVGuide.com.
EIC, a non-profit organization, was founded in 1983 by leaders of the entertainment industry to bring the power of the industry to bear on communication about health and social issues. The organization is considered to be the chief pioneer of entertainment advocacy outreach and one of the premiere success stories in the field of entertainment education and information resources for entertainment creators, through innovative and time-proven services and methods of "encouraging the art of making a difference" from within the entertainment industry. EIC also produces the simulcast national television special PRISM Awards Showcase which addresses accurate portrayals of substance abuse and mental illness: prevention treatment and recovery.
EIC also addresses issues such as diabetes, ADHD, foster care, women's health, firearm safety and injury prevention, sun safety and skin cancer prevention, human trafficking, terrorism and homeland security, eating disorders and obesity, seat belt use and traffic safety, and HIV/AIDS prevention. It has also launched an initiative to increase the public profile and interest in science, engineering and technology. EIC's web site is http://www.eiconline.org. The PRISM Awards web site is http://www.prismawards.com.
Airing Schedule:
September 25
4:00 p.m. ET / 1:00 p.m. PT – FX Network East, TV Guide Network East (DirecTV/Dish for both), REELZCHANNEL
4:00 p.m. PT – FX Network West, TV Guide Network West
8:00 p.m. ET / 5:00 p.m. PT – Retirement Living TV
1:00 a.m. ET / 10:00 p.m. PT – FX Network East (DirecTV/Dish), mtvU, REELZ
1:00 a.m. PT – FX Network West
2:00 a.m. PT – National Geographic Channel
September 26
5:00 a.m. ET – National Geographic Channel
September 27
10:00 p.m. ET / 7:00 p.m. PT – Retirement Living TV
September 28
4:00 p.m. ET / 1:00 p.m. PT – Retirement Living TV
Video On-Demand – September 25-October 31
Bravotv.com
E!
MTV
MTV.com
TVGuide.com
###