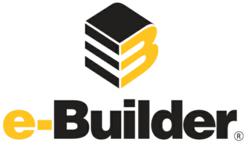 We rely on our clients and users of e-Builder to help us improve the software.
Ft. Lauderdale, FL (PRWEB) September 27, 2011
e-Builder, developer of web-based capital program and project management software, announced today the availability of quarterly upgrade, e-Builder Enterprise 7.10. In this upgrade, e-Builder has further improved ease-of-use by addressing over 300 points of customer feedback captured in conversations and through an integrated "Like/Dislike" feature, whereby users can provide immediate feedback within the application. This latest upgrade offers a wide-range of user-driven enhancements to e-Builder's cost, forms, processes and documents module, letting users execute tasks in fewer steps, fewer screens and in a more intuitive manner.
User-driven feedback is a key aspect of e-Builder's product development strategy. "We rely on our clients and users of e-Builder to help us improve the software. Their feedback helps us develop a solution that meets their program and project management needs in a platform that is easy to use, and which promotes more collaboration amongst all their team members" said Jonathan Antevy, e-Builder CEO.
Earlier releases this year included enhancements to e-Builder's capital planning module, bid management module, and a new Apple iPad app developed with input from the team at University of Texas Southwestern Medical Center.
About e-Builder
e-Builder is the leading provider of fully integrated capital program and project management software for top facility owners and companies that act on their behalf. The company's flagship product, e-Builder Enterprise, improves capital project execution resulting in increased productivity and quality, reduced cost, and faster project delivery. Since 1995, e-Builder's technology leadership and construction industry focus has provided thousands of global companies, government agencies, and healthcare and educational institutions managing billions of dollars in capital programs with solutions to improve the plan, build and operate lifecycle. The company is privately held and headquartered in Fort Lauderdale, Florida. For more information, visit http://www.e-Builder.net.
###