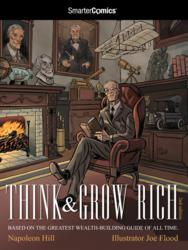 "We are very proud, to offer the bestselling success of all time, illustrated for the 21st century," says Cullen Bunn, scriptwriter.
(PRWEB) September 17, 2011
What is the secret behind wealth? Wealth isn't about owning oil fields or trading gold on the stock market — it's about adopting a mindset that transforms dreams into financial success. "Think and Grow Rich" by Napoleon Hill is the classic wealth-building text that has been updated for the 21st century. Now available in illustrated comic book format on the Kindle, readers can pick up the key principles of turning their dreams into riches in under an hour.
Inspired by a suggestion from Andrew Carnegie on how to not only achieve a lifelong dream but to get rich while doing it, the SmarterComics version of "Think and Grow Rich" isn't just a great read; it's a guide to learning why discipline, dedication, and passion are the building blocks of success. This book is a profound study of human nature that has made it a perennial favorite among many self-made millionaires. Wealth isn't attained by following a step-by-step formula; it's a lifelong pursuit achieved by believing in the value of personal ideas.
Ideas, after all, can be worth millions of dollars. But part of the worth of an idea is how much the creator believes in his vision. Talk is cheap, but commitment is rare. A person who truly believes in his ideas and commits to seeing them through will achieve personal and financial fulfillment. Phoning it in isn't an option. If the person behind an idea doesn't fully believe in his vision, why should anyone else?
Of course, it's easy to lose hope and let doubt undermine even the best efforts. The book teaches readers that temporary defeat is not failure, but rather a reminder to redouble their efforts. The captivatingly illustrated Kindle version of "Think and Grow Rich" takes people through the process of embracing success and leaving failure behind. By harnessing all available resources and refusing to be undermined by temporary set-backs, anyone can achieve their dreams and become financially successful.
The SmarterComics edition of "Think and Grow Rich" is now available for the Kindle, as well as an app for the iPhone and the iPad. The printed version will be published on October 16, 2011.
*****Copies are available upon request.
###