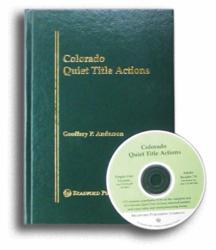 (PRWEB) September 20, 2011
In his book, Colorado Quiet Title Actions, author Geoff Anderson discusses typical substantive legal issues that arise in quiet title actions. The treatment of Colorado adverse possession law is especially thorough. Other substantive law topics include prescriptive easements, public roads, boundary disputes, partition, equitable subrogation, spurious liens, and more.
Useful to the novice as well as the skilled practitioner, the book includes discussions about identification of parties, whether the parties have a right to a jury trial, how to handle defunct companies, service of process, military parties, and many other issues that arise in preparing a quiet title lawsuit.
Quiet title actions are unique in that they often require evidence of historic land usages going back 10 to 100 years or more. Mr. Anderson discusses numerous research techniques and sources of historical information that can make or break a quiet title case.
Lawyers handling quiet title cases will learn about statutes of limitations, working with experts and title companies, lis pendens, judicial foreclosures, receiverships, private condemnation, settlement strategies, trial considerations, and ethical issues.
The latest update includes a new section on how to handle deceased parties who are still in title, a discussion of the latest equitable subrogation case from the Colorado Supreme Court, a new section on attorneys' fees under the Colorado Common Interest Ownership Act and all 2010 Colorado reported cases affecting quiet title actions.
The book also includes many useful forms for taking a quiet title case from complaint to final decree.
About Bradford Publishing Co.
Founded in 1881, Bradford Publishing Company is Colorado's oldest and most trusted publisher of legal information, including legal forms, electronic legal forms, law books, and statutes. With a retail store and offices in Denver's historic LoDo district, Bradford Publishing provides legal forms and reference materials on a variety of legal topics for attorneys, other professionals, and consumers.
Our commitment to quality is the cornerstone of Bradford's business philosophy and we regularly update the content of our books and other publications, so you can rely on the most accurate and current information available.
###