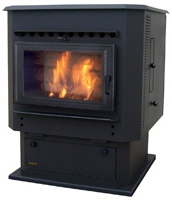 Watch us on Designing Spaces airing on Lifetime on Friday!
Hutchinson, MN (PRWEB) September 17, 2011
If you are intrigued by the hundreds of thousands of people turning to energy efficient appliances that save money and our planet by burning renewable energy, then get ready! American Energy Systems is pleased to announce their products and company President will be featured on "Think Green", a television series on Designing Spaces which airs on Lifetime. The segment will feature the MagnuM Countryside, Model 3500P which burns a variety of biofuels such as corn, wheat, and wood pellets. The "Think Green" producers filmed the MagnuM Countryside in action, burning renewable energy. You'll see how simple and cost effective a pellet stove can be when you tune into Designing Spaces airing on Lifetime Television Network on Friday, September 23, 2011 at 7:30am Eastern & Pacific and 6:30am Central time.
About American Energy Systems: Around since 1973, AES invents and manufactures alternative heating products that burn a variety of Wood Pellet, Corn and biomass fuels. AES has achieved international recognition for their MagnuM Countryside Corn burning appliances and are recognized in the hearth industry as leaders in Flex-fuel / Biomass & Corn burning technology. The company is currently developing new combustion technology and an exciting lineup of flex-fuel appliances for the future. Contact American Energy Systems
###