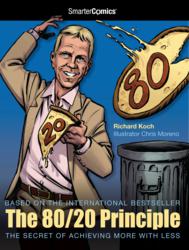 "The 80/20 Principle is the cornerstone of result based living." Tim Ferris, author of The 4-hour Work Week
(PRWEB) September 17, 2011
"This edition is so powerful visually, and yet so faithful to all the original ideas and insights, that it's like having a translation into a new and better language."
That's Richard Koch, the author of "The 80/20 Principle," talking about the new SmarterComics illustrated Kindle version of his acclaimed book. The book is based off the insights of 19th century economist Vilfredo Pareto, whose observations that 20 percent of the work results in 80 percent of success has been proven true in every industry, profession, and personal endeavor.
Pareto's principle has allowed businesses and people to transform how they approach their daily lives. By investing more in those actions that result in success, people can realize their fullest potential without exhausting themselves in the process. Modern life is frequently a deluge of distractions and obligations, many of which result in a feeling of exhaustion. "The 80/20 Principle" cuts through all the meaningless and ultimately non-essential busywork to help readers understand what choices will ultimately benefit them, and what choices are simply a waste of time and resources.
The Kindle version of "The 80/20 Principle," is fast, snappy, and engaging. Incorporating visual comic book panels with choice excerpts from the text, the Kindle version sparkles with wit and insight, and takes just under an hour to read. For those Kindle owners who love reading a great book on their way to work, during lunch hour, or even in the few precious moments they may get to themselves during the day, the SmarterComics version is both accessible and engrossing.
By following Pareto's principle, life can become a series of rewards, not a series of demands. Achieving happiness and fulfillment, both personally and professionally, isn't about working non-stop 16 hours a day, 7 days a week. Success is about pursuing the actions and choices that will ultimately result in long-lasting satisfaction. The illustrated "80/20 Principle" isn't just great reading: it's life changing.
The Kindle version will be released on 09/17/2011. The app for the iPhone, iPad and Android will be available in October. The printed version will be published on January 1, 2012.
*Copies are available upon request.
# # #