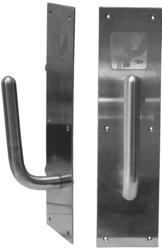 The SanitGrasp was specified as the only door handle that would meet the court's decision.
Alpharetta, GA (PRWEB) September 16, 2011
SanitGrasp, the internationally patented hands free door handle, is being recognized as the door handle that best satisfies ADA regulations. This door handle is in the shape of a "J", thereby allowing a person to open a door with their closed fist or wrist.
The SanitGrasp has been identified as a method of improving facilities for the disabled. The SanitGrasp most recently realized this opportunity when a Chevron convenience store in Coalinga, California installed the SanitGrasp door handles as the result of an ADA lawsuit. "When we received the order the contractor stated the SanitGrasp was specified as the only door handle that would meet the court's decision. This is the first time we are aware of a court suggesting the SanitGrasp. Although, we have seen an increase in orders for that very reason, the Arkansas Secretary State and Disability offices ordered the door handle to assist the disabled as well." stated Matthew Fulkerson, inventor of the SanitGrasp and owner of Fulkerson, LLC.
The SanitGrasp was initially invented to provide a hand free method of opening a restroom door handle, the ADA aspect is an additional benefit. "Our initial objective was to provide a door handle that allowed employees and patrons to avoid germs on public restroom door handles. We definitely are pleased the SanitGrasp is also a door handle that is much easier for the disabled to use." stated Fulkerson.
The SanitGrasp was engineered to easily remove an existing door handle and use the same screw holes to add the SanitGrasp in place of the old door handle. What a simple solution to the old problem, how do I exit the restroom without touching that nasty door handle. Now with the additional benefit of assisting the disabled.
Additional information is available at http://www.sanitgrasp.com or by contacting Fulkerson, LLC.
Fulkerson, LLC
Matthew Fulkerson
Alpharetta, GA
800.351.6435
###