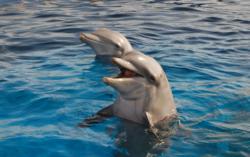 "Our awards jury was particularly delighted to give this year's television/radio award to a local public television station serving its viewers with a skillfully produced broadcast containing highly relevant science content."
Miami, FL (PRWEB) September 17, 2011
"Sentinels of the Seas," an episode of WPBT2's original production, Changing Seas, is a winner of the 2011 Communications Awards in the Film/Radio/TV category presented by the National Academy of Sciences, National Academy of Engineering and Institute of Medicine. Supported by the W.M. Keck Foundation since 2003 as part of the Keck Futures Initiative, these prestigious awards recognize excellence in reporting and communicating science, engineering and medicine to the general public.
"Sentinel of the Seas" focused on the impacts legacy contaminants are having on Florida's bottlenose dolphins. "This is a somewhat controversial topic, but we felt it was a very important story to be told," says producer/writer Alexa Elliott, "few people are aware of the impact high levels of contaminants in the oceans are having not just on marine mammals but on human health as well."
The production team also included Kandra Velez and Veronique Koch, associate producers; Sean Hickey, editor and videographer; Jeremy Nicholson and Allan Farrell, videographers; and Ray Ratliff, graphic designer.
The winners were selected from more than 300 print, broadcast and Internet entries. Other winners include Rebecca Skloot for The Immortal Life of Henrietta Lacks in the Book category, Amy Harmon for her New York Times' article "Target: Cancer" in the Magazine/Newspaper category, and Andrew Revkin for his New York Times' "Dot Earth" Blog in the Online category. All recipients will be honored during a ceremony on October 14 at the National Academies' Keck Center in Washington, D.C.
"Our awards jury was particularly delighted to give this year's television/radio award to a local public television station serving its viewers with a skillfully produced broadcast containing highly relevant science content," says Bill Skane, Executive Director for News and Public Information at the National Academies.
"Sentinels of the Seas" can be screened online at: http://video.wpbt2.org/video/1513526384.
Major funding for Changing Seas was made possible by a generous grant from the Batchelor Foundation.
About Changing Seas
Currently in its fourth season, Changing Seas takes viewers on an exciting journey to the heart of our liquid planet. Narrated by renowned voice talent Peter Thomas, this documentary series lets viewers experience first-hand how oceanographers study earth's last frontier, and sheds light on how human activities are threatening ocean resources. http://changingseas.tv
About WPBT2
South Florida's premier public broadcaster, WPBT2, is a community-licensed, not-for-profit media enterprise serving communities from the Treasure Coast to the Florida Keys. WPBT2 provides high quality content from PBS, independent acquisitions and its own original productions. WPBT2's digital media platform, offers: 2HD, a 24-hour high definition channel; Digital 2.2, a mix of Science & Nature Channel, The Florida Channel and Create; Digital 2.3, V-me, a 24-hour national Spanish-language network; and http://www.wpbt2.org, the WPBT2 website including, Impromp2 (a community blog), the WPBT2 Video Player and uVu, a video sharing website.
###