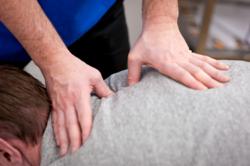 Dr. Shoshany has gone on to become the most experienced authority on the subject of herniated discs, sciatica and back pain...
New York, NY (PRWEB) September 20, 2011
Dr. Steven Shoshany is celebrating a big date coming up – it's approaching 10 years since he started providing non surgical spinal decompression in Manhattan. One of the first chiropractors in NYC to introduce this cutting edge method of using linear traction to decompress the spinal discs, Dr. Shoshany has been providing the highly sought after service since 2001. The technique is incredibly effective and most patients suffering from back pain or sciatica feel immediate relief. The protocol usually lasts for approximately twenty sessions, and after the treatment has been completed, patients that were once debilitated by their pain are able to go about their daily tasks and take control of their lives again.
Dr. Shoshany was one of the first back pain experts in NYC to offer spinal decompression, and has treated thousands of people suffering from back pain due to herniated or bulging discs. Dr Shoshany began his practice in 1999, and has since helped people find relief from many painful conditions and acute injuries. Since introducing his patients to a cutting edge method of spinal decompression in 2001 Dr. Shoshany has gone on to become the most experienced authority on the subject of herniated discs, sciatica and back pain in lower Manhattan.
Dr. Shoshany performed other forms of decompression therapy at his first practice on Downing Street in NYC, but he envisioned a practice that could accommodate any patient's needs, and he knew he could treat patients and produce results much quicker by integrating his chiropractic methods with other medical disciplines. After opening a new cutting edge medical practice in Manhattan's SOHO neighborhood, Dr. Shoshany has combined his chiropractic methods with other disciplines by working alongside a Physical Therapist, Massage Therapists, and a Pain Management specialist.
This combined approach to treating pain and its root cause is much better at addressing the origin of the pain, and alleviates pain much faster than traditional medical care or single discipline treatment. When chiropractic, physical therapy, and massage are combined with traditional medicine, all under the same roof, the rate at which each technique can be provided to each patient is improved dramatically. Typically a new patient can see a doctor, get checked out, walk right over to the physical therapist or chiropractor and immediately receive treatment from a specialist without having to run around town, or flip through directories.
Sometimes patients may be in too much pain to undergo chiropractic adjustments, or physical therapy, and even a massage may be excruciating. For these cases Dr Shoshany works with a pain management doctor, also on site, who can prescribe pain medication.
To further expand the capabilities of his practice he has invested in a C-Arm. A C-Arm is an x-ray image intensifier that, along with a traditional x-ray already on site, is going to greatly increase the on site capabilities of the practice, further decreasing the time patients spend in pain.
After 10 years of providing spinal decompression Dr. Steven Shoshany is continuing to expand his practice, increase his abilities to provide care with minimal hassle, and investing in advanced diagnostic techniques. He has helped thousands of people suffering from back pain, sciatica, herniated, or bulging discs, neck and upper back pain.
About NYC Chiropractic and Spinal Decompression Center
The NYC Chiropractic office is dedicated to pain management. We utilize the most advanced chiropractic solutions available on the market. Our chiropractic health programs are designed for each individual's chiropractic needs. Our chiropractors are gentle and provide thorough consultations for every patient. We will teach you about spine health, nutrition, and exercise. We provide non-surgical, non-invasive chiropractic treatments for pain management, along with Non-Surgical Spinal Decompression using the DRX 9000.
For more information, please visit: http://drshoshany.com/
# # #