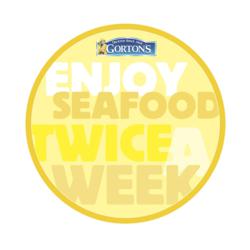 People are always looking for fresh meal ideas, and Gorton's Seafood new recipe section provides hundreds of ways for consumers to "fishify" favorite family meals,
stated Zach Soolman
Gloucester, MA (PRWEB) September 16, 2011
From September 14, 2011 through December 2, 2011, Gorton's Seafood will be asking consumers how they fill their plate when serving their products to provide tasty, nutritious meals for themselves and their families.
The recent MyPlate dietary guidelines released by the U.S. Department of Agriculture and Health and Human Services suggest incorporating seafood twice a week into their meal plan. With Gorton's "Any Way You Want It" promotion, the company aims to get feedback from consumers about their favorite ways to serve up seafood as part of a wholesome meal. The promotion entry form will ask consumers to choose a Gorton's product, then enter an item under each category of fruit, vegetable, grain and dairy that they commonly use to round out their plate for a nutritious meal. This information will then be shared with consumers as a complement to Gorton's newly revised online recipe section.
"One of the recommendations of the MyPlate dietary guidelines is to substitute fish in a favorite meal – like using breaded or grilled fish on taco night, or placing a piece of salmon or tilapia over salad or in a favorite pasta dish," stated Zach Soolman, Director of Consumer Marketing. "People are always looking for fresh meal ideas, and our new recipe section provides hundreds of ways for consumers to "fishify" favorite family meals. With the wide variety of seafood we offer – from salmon to tilapia to shrimp, beer battered to grilled fillets – Gorton's makes it easy to enjoy seafood any way you want it, and meet the dietary guidelines recommendations of eating seafood twice a week in a convenient and delicious way."
Entrants in the Gorton's Seafood "Any Way You Want It" promotion will have the opportunity to win $5,000 to spend "Any Way You Want It" just before the holidays. One entrant will be selected at random in early December. Two runners up will win $500 each. Additionally, during the promotion period, Gorton's will be giving out 800 custom Gorton's dinner plates that remind consumers to "eat seafood twice a week".
In addition to the recipe section, the Gorton's Goodness section of the website offers consumers more information about the health benefits of seafood, along with more tips for how to incorporate seafood into their diets on a regular basis.
"Seafood is a great source of lean protein and heart-healthy Omega 3s," shared Soolman. "And Gorton's wants to share with consumers how easy, versatile, and delicious seafood can be!"
For more information about Gorton's Any Way You Want It promotion, please visit http://www.gortons.com/AnyWayYouWantIt/.
For more information about the U.S. Department of Agriculture and Health and Human Services recommendations, please visit http://www.choosemyplate.gov.
About Gorton's Seafood
Founded in 1849, Gorton's is one of America's oldest continuously operating companies. Headquartered in Gloucester, Massachusetts, Gorton's continues to be the innovative leader in the seafood industry. Gorton's full line of frozen seafood products includes Breaded and Battered Fish Sticks and Fillets, Grilled Fillets, including Tilapia and Salmon, Premium Fillets, Grilled Shrimp, Flavored Fillets, Tenders, and Popcorn Shrimp. Gorton's products are available nationwide in better independent and chain grocery stores. Gorton's proudly stands behind its products with its "Trust the Fisherman Guarantee," which represents an unwavering commitment for over 150 years to providing the best-tasting, highest quality seafood meals. The Gorton's Fisherman, in his yellow slicker and rain hat, has become an icon symbolizing this commitment. For more information, please visit http://www.gortons.com or call 1-800-222-6846.
###