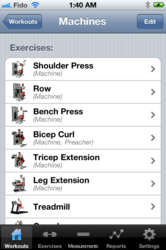 (PRWEB) September 16, 2011
Independent developer Shalom Levytam has announced the release of MyWorkout 1.0, an application for the iPhone and iPod touch that helps you track your exercise routines and fitness history. Featuring a clean, simple, intuitive design, MyWorkout is a must have app for gym goers and fitness enthusiasts.
MyWorkout lets you choose from a large selection of gym exercises and cardio activities to build custom workout routines. Learn how to perform new exercises with the help of 3D animated video and detailed text instructions. Listen to your iPod while logging your exercise performance. Generate visual reports of your progress. Track your weight and body measurements. Calculate your Fat Percentage and Body Mass Index. Backup your data online. Add unlimited user accounts. It's easy with MyWorkout.
Features:
● Log your weight and cardio exercises
● Enjoy a clean, simple, intuitive design
● Listen to music with the integrated iPod player
● Time yourself using a stopwatch with laps
● Select from a large database of exercises
● Learn via 3D animated videos and detailed instructions
● Add custom exercises
● Graph your progress
● Record weight and body measurements
● Calculate BMI and Fat Percentage
● Add unlimited user accounts
● Backup and restore user data
Device Requirements:
● iPhone, iPod touch, and iPad
● Requires iOS 4.0 or later
● 18 MB
Pricing and Availability:
MyWorkout 1.0 for the iPhone and iPod touch is now available for a limited time price of $2.99 from the Apple App Store ( http://itunes.apple.com/us/app/myworkout/id462006254?mt=8 ). You can learn more about the application at http://www.myworkoutapp.com. Suggestions and feature requests can be made by emailing suggestions(at)myworkoutapp(dot)com.
###